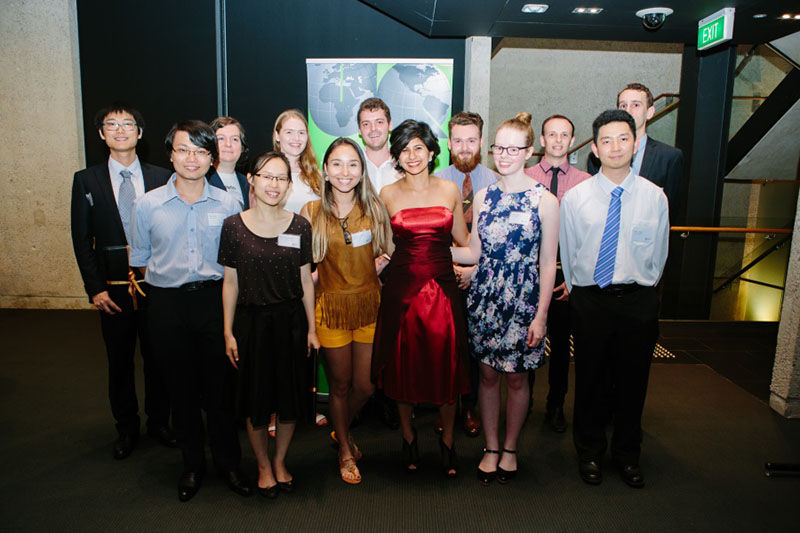 On Friday 27 November, 2015 the University of Queensland (UQ) School of Economics celebrated the achievements and hard work of the students in the 2015 Honours Class at an evening function held at the UQ Art Museum.
At the beginning of year, the Honours class commence a year-long research project under the supervision of notable academics working within the School.
This end of year function provided the Honours students with the opportunity to come together with family, friends, UQ Economics staff members and industry partners to celebrate completing their theses.
Head of School, Professor Rodney Strachan opened the event by congratulating the Honours Class and thanking the industry sponsors and special guests for their support.
The guest speaker for the evening was Mr James O'Regan, a Barrister from the Queensland Bar Association.
Mr O'Regan, UQ School of Economics Honours Class of 1993 and Archibald Scholarship recipient, congratulated the Honours year students on their remarkable achievement.
He shared some fond memories of his own time as an Honours student. Although he agreed it was a challenging year, Mr O'Regan told the students it was totally worth it and not to be surprised if their degree takes them to unexpected places.
Sophie Byth spoke on behalf of the 2015 Economics Honours year cohort to close the evening's formal celebration.
She thanked the staff and Honours supervisors for their tireless work and assistance throughout the year. A year she described as tough, but very rewarding.
Ms Byth spoke about the strong bond that developed between each of the Honours students as they supported one another throughout the year. She also shared her excitement for the future and wished her cohort all the best of luck in whatever they choose to do.
During the evening there were a number of special industry sponsored awards that were presented to outstanding students.
Congratulations to the following winners:
ACCC Economics Honours Prize: Sophie Byth
The Tactical Global Management Honours Prize: Luke McKenzie
The Synergies Economic Consulting Honours Prize: Sophie Byth
The School of Economics would like to thank the generosity of our industry partners Synergies Economic Consulting, Tactical Global Management and the ACCC.
The UQ School of Economics Honours Program is its flagship program. The year-long invitation only program is undertaken by the School's highest-achieving undergraduate students and provides them with a solid foundation for launching a successful career in economics or academia.