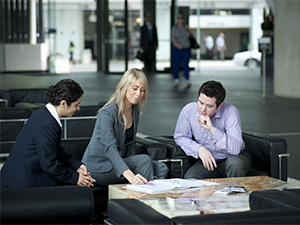 Working with government, industry and the profession
We are continually strengthening our ties with government, industry and the profession through key annual events and public seminars. Our robust events program serves as a platform for networking and engaging the wider business community in economics discussion and thought.
Our researchers also connect with public and private sector organisations, and regularly work with all levels of the Australian government and international development agencies including the World Bank, United Nations, World Health Organisation, International Monetary Fund and the Asian Development Bank.
Our academics are regularly invited to speak before a wide range of professional organisations and non-profit organisations, and we are engaged in industry networks, affiliated societies, community and other interest groups, such as:
Asian Productivity Organization
Australian Bureau of Statistics
Australian Political Economy Network
Australian Taxation Office
BDO Australia
Council on the Ageing (COTA) Queensland
Department of Environment and Science
The Econometric Society
KPMG
Office of Rural and Remote Health, Queensland Health
Queensland Investment Corporation
Queensland Department of Health
Reserve Bank of Australia
WPS
Our close ties with industry are also reflected in the range of industry-sponsored scholarships we offer. 
Workshops and continuing professional education
Through the Centre for Efficiency and Productivity Analysis (CEPA), we offer industry specific workshops and short courses tailored to meet the continuing professional education needs of professional groups and government bodies. These largely focused on productivity and efficiency measurement, but also in more general areas of econometrics, with continued demand for these courses reflecting the interest in performance measurement in the Australian public sector. In addition, during this period, we hosted 12 workshops, most featuring internationally respected speakers drawn from overseas.
We run these workshops to provide further education to industry, government and the economics sector. They're not run as a profit-making exercise.
Get involved
Find out more about the different ways you and your organisation can get involved with us, including: