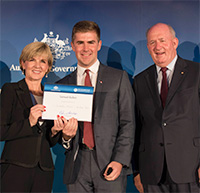 A once-in-a-lifetime experience in Singapore awaits Bachelor of Economics/Laws student Samuel Bullen, who was awarded the Federal Government's 2016 New Colombo Plan Scholarship.
Governor-General Sir Peter Cosgrove and Foreign Affairs Minister Julie Bishop announced the scholarship recipients at a ceremony in Canberra last week.
The scholarship program allows outstanding undergraduate students to study abroad at one of 38 Indo-Pacific locations, including Bangladesh, China, Fiji, Japan and Pakistan. 
This initiative ties in with the government's New Colombo Plan, which aims to strengthen relationships between the Indo-Pacific and Australia through study and work placement opportunities for Australian university students.
Samuel, who was one of seven UQ studentsto receive a scholarship, will study at the National University of Singaporein Semester 2 next year.
He said he was inspired to study in Singapore because of its leadership in law and economics.
Singapore is a leader in the Indo-Pacific, if not the world, in both of these disciplines," he said.
The National University of Singapore also has a highly reputable Faculty of Law, particularly in the context of international trade law.
This is my area of interest – I would love to pursue a career as an international trade policy analyst for the Department of Foreign Affairs and Trade.
I'm passionate about policy issues facing the wider community and I want to assist in providing innovative solutions to the complex challenges facing our nation."
Samuel said he was eager to learn Mandarin and complete some work experience in Singapore.
Over the summer I'm hoping to undertake an econometric research project with the Singaporean Ministry of Trade and Industry," he said.
I'm also keen to live and work in Singapore because of its highly successful mix of people from different cultural, religious and social backgrounds.
I want to immerse myself in the Asian culture and experience the widest range of opportunities possible."
While at UQ, Samuel has volunteered for the Prisoners Legal Service and the Queensland Public Interest Law Clearing House, participated in the UQ Community Engagement Program and worked as an Economics PASS Leader.
This year, he attended the United Nations Commission on International Trade Law in New York with UQ law academic Dr Alan Davidson.
He will also be representing UQ at the Vis International Commercial Arbitration Moot in Vienna in March 2016, which involves an international trade law dispute.