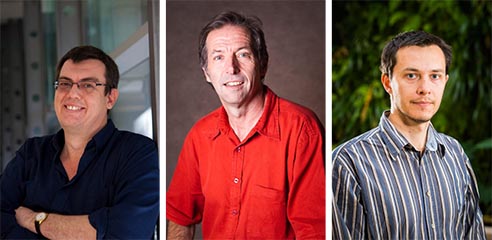 Three standout academics from The University of Queensland, School of Economics have been awarded more than $1.1 million in the latest round of Australian Research Council (ARC) grants.
The grant funding will assist the academics to research a diverse range of economic problems that will aid in creating better policy and benefit the community in fields such as the environment, social welfare, health and household budgets.
Professor John Quiggin, ARC Australian Laureate Fellow, won a Discovery Project Grant, and Dr David Adamson and Dr Kenan Kalayci both received Discovery Early Career Researcher Awards (DECRA).
Associate Professor KK Tang, Acting Head of School, said obtaining three prestigious research grants reinforces the School's position as one of Australia's leading research-economics departments.
"I would like to congratulate our three very talented economists who have recently been awarded ARC grants. Most notably, we won two of the six DECRA grants for economic studies," Associate Professor Tang said.
"The School ranks in the top two departments for economics in Australia and 33rd among research-intensive economics departments internationally*."
"Winning these research grants reinforces our strong reputation for producing high-quality research that has wide-ranging impacts on government policy, industry decision and public debate in Australia and across the world."
Information about grants awarded are outlined below:
Professor John Quiggin won a $475,000 grant to develop a formal model of decision theory for situations where people do not have access to all the information, or do not understand all the outcomes.
Dr Kenan Kalayci was awarded $358,000 to conduct research that aims to assist governments in making markets more effective to improve consumer welfare.
Dr David Adamson will use his $335,000 grant to investigate the impact of climate change on the future water security in the Murray Darling Basin, and therefore aid government decision making in social and environmental restoration projects.
*RePEc Nov 2015