Breaking down barriers and absorbing new ideas: what to expect from the Borderless competition
By Yu Shuen Leong (aka Maximus)
Bachelor of Commerce / Bachelor of Economics student Yu Shuen Leong didn't know what was ahead when he signed up for the School of Economics' Borderless competition in Semester 1, 2020.
Five weeks and several online meetings and rounds of video edits later, Yu Shuen and his University of Exeter teammates had placed second in the competition, having learnt new skills and gained valuable international connections along the way. In their submission, the team explored the validity of a clean energy market model in which negative energy prices might occur and explained the economic impact on various sectors.
Fresh off his round of the competition, Yu Shuen gave us the rundown on his journey and what future Borderless participants can expect from the experience.
Making the leap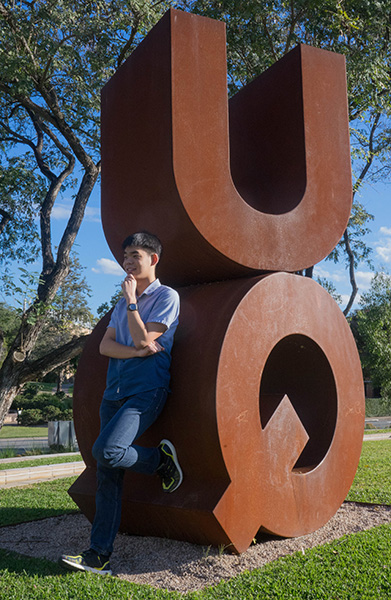 I first heard about the UQ Borderless competition in Semester 1, 2020. The competition's intention is to bring together brilliant minds from UQ and international universities to address some of the current global economic issues and research topics. With the COVID-19 pandemic disrupting our daily routine of getting to class physically, we were all locked in our respective homes for perhaps the first time since World War II – an ideal time for an online competition!
When I came across the advert for this competition, I doubted myself for a brief moment, wondering, "Am I good enough for this? Can I cope with my studies while working on this project?" Ultimately, the competitiveness in me won the mental tug-of-war and I gave it my best shot. 
What to expect: the challenges and rewards
It started with familiarising myself with my teammates from a foreign university (in my case, the participants from the University of Exeter). My curiosity-filled mind was relieved when we had our first video call for group discussion. My teammates were approachable and brimming with excitement to contribute their respective ideas. Of course, in every group project there are bound to be disagreements but it was the constant refining of ideas that helped us through.  For example, we initially had different opinions in approaching the topic but later came to an agreement that a cause-and-effect approach was suitable to present our findings. Also, given the restrictive time limit for the video, we agreed to pick our strongest arguments to support our findings.
The experience of having online discussions was indeed unique and challenging, as we had to take into account time differences between countries to conduct our online meetings. However, it was interesting to work with students from a foreign country as we could actually learn and observe how others with a different culture and background present their ideas. More importantly, I took note of the different perspectives of my teammates on the same issue, thus generating varied opinions that eventually led us back to the same goal.
Another skill I personally learnt from this competition was making and editing video. We were required to create a short video to present our answers; my first time putting one together. After multiple trial and error attempts, the final product was not the best in terms of technical quality, but it didn't matter! I am proud to say that we gave it our all.
When our team finally submitted our work, we told ourselves that we strove for the best and left it to the judges to make the final decision. We were anxious waiting for the results, but once it was announced that we came second it was definitely rewarding to see our hard work paid off – especially when considering how many other students we were up against.
Striking a balance
I can vividly remember that competing in this competition fell during the same time that I was taking my mid-semester exams, which made it challenging to cope with both commitments. Luckily, I planned out my revision timetable and followed it strictly while preparing for my exams. In addition to that, I had very considerate teammates who gave me time to gather materials for the topic we were tackling, while also taking into account that I had to prepare for my exams. I was very grateful for this.
Overall, it was a true teamwork effort in a real-life setting and I learnt how to balance a number of personal responsibilities while achieving great outcomes.
Learnings
The whole journey was worth the ride. From my initial self-doubt, to getting to know my teammates through social media, to the seemingly endless group discussions in the commitment to refine our ideas, and finally the joyful moment of knowing the results, I personally learnt a lot from this exhilarating journey.
The first little step is always the hardest, but once you take it there is no other way to move but onwards. The entire experience of working in a group also enhanced my soft skills and my ability to collaborate with others that I believe will propel me further while working in this competitive world.
For now, I would like to end my thoughts with a personal quote: if you bring together small ideas, big dreams will come true. Terima Kasih (or 'thank you' in Malay)! 
Watch Yu Shen's Borderless submission and all the entries from the UQ-Exeter competition.
About the author
Salam Sejahtera! I'm Yu Shuen Leong, currently a second year in my dual degree in Commerce and Economics at The University of Queensland (UQ). Born and bred in Malaysia, it is a once-in-a-lifetime experience to study abroad and experience what Down Under has to offer. Outside of lectures, I also started fencing since my first year here and participated in the UniSport Nationals 2019. I gained an unforgettable memory competing in a sport rarely mentioned in my home country.
---
Find out more about the Borderless competition.
Do you have a question about the Borderless competition? Contact us at eborderless@uq.edu.au.