PPE student tackles bushfires and the film industry
Post by Max Broad, 3rd year PPE student
---
In 2020, I took part in the School of Economics' Borderless competition. This was a great opportunity to work with students from different backgrounds while taking on contemporary, real-world issues that you don't often see in the lecture theatre (with the extra motivation of a cash prize!).
Deciding to compete
As a PPE (Politics, Philosophy and Economics) student, I had only done introductory-level ECON courses when I applied, so I was a bit hesitant about whether I knew enough to do well. Once I started though, I realised the team environment meant that everyone is working together, and as long as you're motivated to do research on the issue and get involved, opportunities like these are fantastic – especially for stepping outside of your comfort zone and engaging with economic problems.
Round 1: Background and setting
The first project I undertook was alongside University of Exeter students and was tasked with analysing an issue resulting from the 2019-20 Australian Bushfires, and presenting a policy response.
The summer of the bushfires was one of the most intense times that I have lived through since I was a kid. It was crazy to see the entire country battling something so unprecedented, yet it was also scary knowing that catastrophes like the bushfires are only going to become more regular due to climate change, and that it wouldn't be the last time I would witness something so terrifying (little did I know what the rest of 2020 had in store…).
When I was then later presented with the opportunity to learn more about the disaster through Borderless, it was really gratifying knowing that I was investigating something real; a catastrophe that touched so many lives so close to home.
My team decided to look at the impact of the bushfires on public health and the relevant economic ramifications. One thing that we learned was how the dangers of bushfires aren't just the ones we can see, but that they are accompanied by invisible threats as well. We looked at the way that bushfire smoke can cause and aggravate respiratory conditions such as asthma and chronic obstructive pulmonary disease (COPD) and the way in which fires can have lasting effects on our lives if we don't react through policy.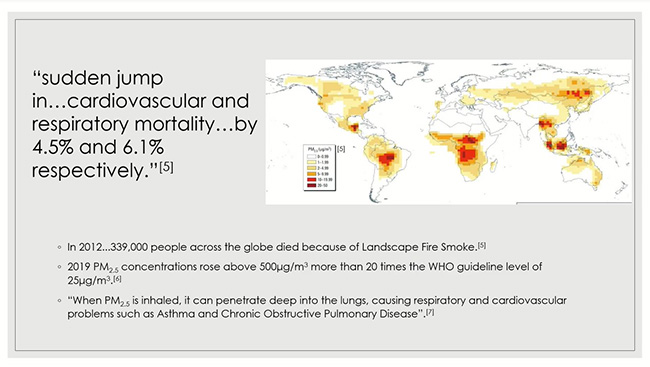 Throughout this project I was able to apply the skills that I have learned so far in my coursework, like examining data and applying my knowledge of economic theory; however, the collaborative nature of the program also meant that I was able to learn a lot from the program. For example, my team used behavioural economics to analyse the issue, a field that I have not yet encountered in my coursework, but by working alongside other students I was able to learn in a fun, yet challenging environment.
Back for more
By the time that I applied for a second Borderless comp, I hadn't even finished the first one! I knew that these opportunities were a great chance to learn more about economics while putting the skills I had learned so far into practice, so I signed up all over again! Given the restrictions in place because of the COVID-19 pandemic, this was also a way to keep myself busy and productive. Yes, part of me wanted to spend my spare time on the couch watching Netflix, but I knew that I would be thankful for these opportunities in the future.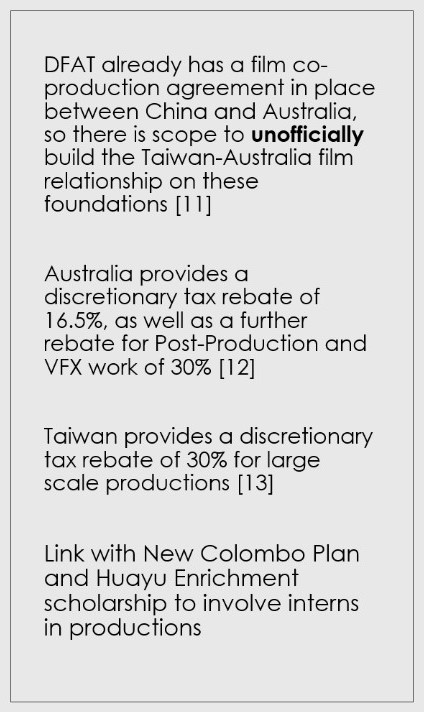 Unlike the Exeter competition, which gave me a taste of what life may look like in research or the public service, this project allowed me to dive deep into the film industry. Alongside students from National Chengchi University in Taiwan, we identified an opportunity for collaboration between Taiwan and Australia to capitalise on the way that film production had been cut off during the COVID-19 pandemic. While both competitions were certainly similar in the way that we worked together to approach a unique issue, this project really allowed me to think outside the box – how often do you see Australian collaboration with Taiwan in the film industry discussed in your textbooks?
Our team synthesised information from a range of sources that were relevant to both parties and detailed how they would each benefit from our proposal. Again, the process of working collaboratively and sharing information with students from another university was a great opportunity to meet new people and build on each other's ideas.
Advice for students
I would say to students looking to get involved in projects like these, that you shouldn't be nervous to challenge yourself. The team environment means that there's no pressure on you to make everything perfect, and you will actually learn and gain real skills from these experiences. Taking part in competitions is also a great way to strengthen your resume and get a taste of what your future career may look like.
This is just one of the many great opportunities that the School of Economics provides, and I would encourage everyone to take every chance that they can get during their university career.
Related links
Interested in competing?  Find out more about the Borderless competition or contact us with any queries at eborderless@uq.edu.au.
About the author
Max Broad is a third-year student studying PPE (Politics, Philosophy and Economics) as well as a Diploma of Languages in French. He is also a 2020 New Colombo Plan Scholar who is interested in the ways policy is influenced by a variety of disciplines. Max hopes to use what he is learning for a career in either research or public service.
---