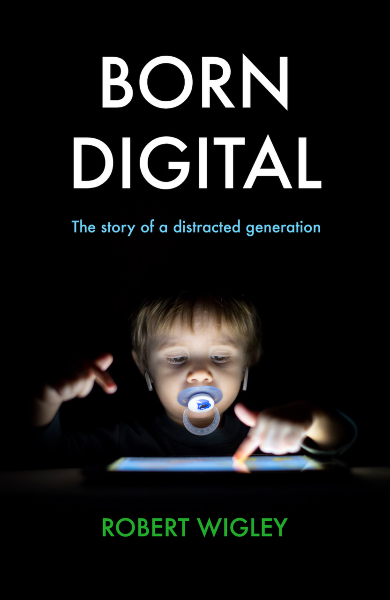 Bob Wigley is a master of many trades – he is the Chairman of UK Finance, an Adjunct Professor at the UQ School of Economics, an investor, an entrepreneur, and now a published author.
His first book, Born Digital, covers the rise of the devices, games and social media that consume our lives, the many challenges presented by this new technology, and how we can combat the dangers of the internet and big tech to help spare future generations.
To celebrate the release of Born Digital, Adjunct Professor Wigley answered some of our most pressing questions and offered some insight into how his book relates to the work of economists.
---
Although you're based in the UK, the content of Born Digital seems relevant to a global audience. Can you describe how the findings from your book are applicable to other countries around the world such as Australia?
It is not just relevant to the UK – most of the biggest studies and data are from UK and US surveys, but the issues raised are applicable globally. Australia is at the forefront of tackling the issues raised in my book. You are the only country in the world I am aware of to have a full-time, government-appointed eSafety Commissioner, Julie Inman Grant. She advises the public and government on how to have safer and more positive experiences online. Your government has just told Facebook that it has to pay other news organisations when it distributes their content due to Facebook's monopoly position, in a highly publicised dispute over your new law that was literally resolved very recently and caught global media attention.
How does Born Digital apply to economics and to the work of economists?
Much of the government action needed to resolve the problems identified in the book falls into two areas – conduct of bigtech and their monopoly position. Conduct includes issues like age verification but also metrication – the measurement of social reward online (something the Head of the School of Economics Professor Daniel Zizzo is interested in from an economic point of view). The second area is at the heart of economics because the big techs are monopsonies. But how to deal with them from a legal and regulatory point of view is difficult from the point of view of traditional monopoly remedies given the nature of bigtechs.
What are your key findings from the book?
That phone use is designed to be addictive. That increased screen time may be linked to adolescent wellbeing issues. That the antitrust legal system has failed society.
What are the main messages you want people to take away from the book or the actions you want them to take after reading?
Individuals will be more aware of the dangers of the internet and more aware that they need to self-regulate their internet use and how to do this. Educators should know that Responsible Internet Education should be part of the core education curriculum for all children. Software designers should be encouraged to design safety into new apps and services. Governments need to regulate the bigtechs more aggressively – passing laws to require the platforms to regularly assess the impact their platforms and apps have on users, assess whether harms are caused, and if so take adequate actions to mitigate those harms. If not, the companies concerned should be fined or prosecuted.
What do you think our UQ economics students would find compelling about Born Digital?
I think they would find it incredibly interesting – it literally analyses most aspects of their daily lives and their interaction with technology. It is very much told through the lens of Generation Z.
---
Find out more about Adjunct Professor Wigley. 
Contact: BEL Communications team, communications@bel.uq.edu.au