A group of exemplary graduates from the School of Economics' class of 2018 were named University medallists this week.
The School's four medallists – Wanying Huang, Jason Lejcak, Ransi Weerasooriya and Phillip Womack – were each recognised for achieving outstanding academic results throughout their studies.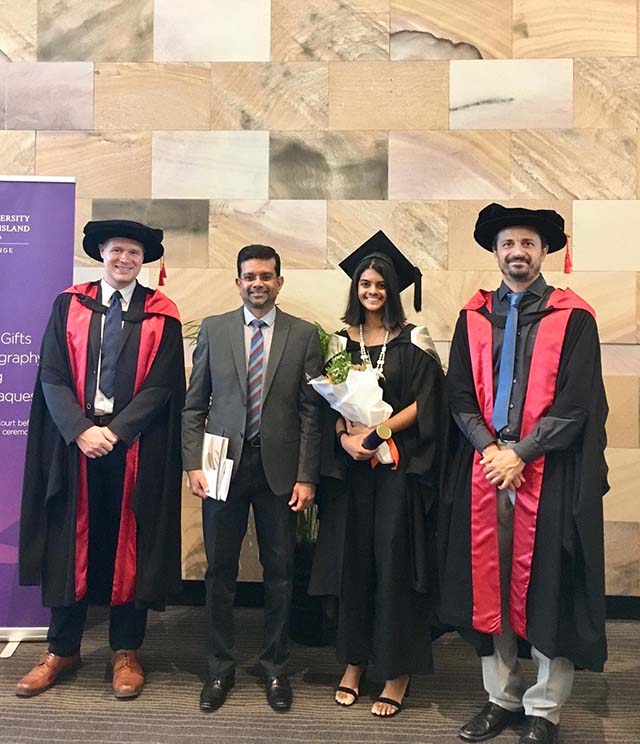 International scholarship student Ransi Weerasooriya said she attributed her academic success to two main factors: the unconditional support she received from family, friends, School staff and supervisors, and her mindset.  
"I took personal responsibility to do well because I had a Centenary Scholarship," she said.
"I realised that many people would have applied for this scholarship and a lot of people didn't get it – I did. And back in Sri Lanka, not many students had the means to study abroad.
"It was important for me to make the most of my opportunity."
Weerasooriya's UQ journey began in 2015 when she made the move from Sri Lanka to Australia to study the Bachelor of Economics.
Although she was nervous about moving away from home, Weerasooriya's approach to life was – and still is – built on taking risks to reap the rewards.  
"I believe it's good to put yourself in the deep end and work your way to the shallow end," she said.
During her four years of undergraduate and honours economics studies, she was a summer and winter research scholar, secretary of the UQ Sri Lankan Association, an international student officer for the UQ Economics Society and an economics tutor.
Since graduating with her Bachelor of Economics (Honours Class 1) in 2018, Weerasooriya has remained actively involved with UQ.
She is currently studying a Master of Science specialising in mathematics, and working as a research assistant on School of Economics Professor Alicia Rambaldi's ARC Linkage Project.
At the end of this year, Weerasooriya will begin applying to various economics and public policy PhD programs around the world, with her long-term goal being to run for government in Sri Lanka.
Looking back, Weerasooriya said she had four main pieces of advice for UQ economics students wanting to excel.
"Take a lot of risks – if you feel a course is going to be difficult, take it to help you grow," she said.
"Consider your study as dignity, in the sense that the harder you work, the prouder you can be of yourself.
"Don't shy away from mathematics. Maths is the sort of thing that makes more sense and becomes more applicable the more you learn about it.
"And finally, have a sense of humour. When something goes wrong, try to see it as a funny story instead of a negative experience."
Contact: BEL Communications, media@bel.uq.edu.au, +61 7 3346 9349