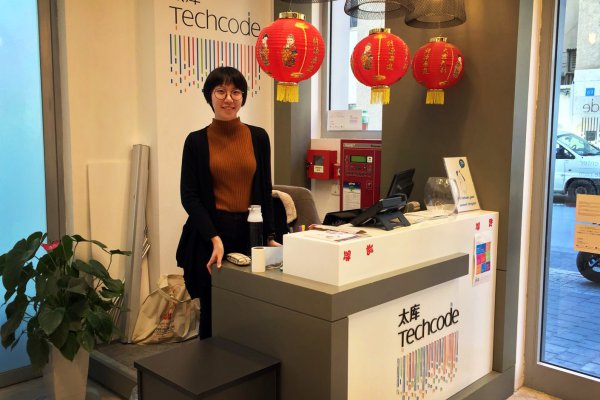 By Jiaqi Zhou, Bachelor of Economics
The Tel Aviv Startup Adventure, ran by The University of Queensland's Idea Hub, is an excellent opportunity for students to explore the fast-developing business world, learn essential networking skills and see an exciting new place. I feel very fortunate to have been on this fantastic adventure.
On arrival, I was overwhelmed with the modern appearance of Tel Aviv, Israel. The city was completely different to what I had been expecting. Distanced from words like ancient and religious, it's a modern city that embraces diversity and western lifestyle – complete with a flourishing startup ecosystem and the typical nightlife that accompanies western society.
The program lasted four weeks and allowed me and thirteen other UQ students the chance to intern in some of the city's most promising startups. I worked for an incubator called Techcode that helps startups scale-up and expand on a global level with an emphasis on tapping into the ever-expanding Chinese market. The firm was located in the centre of Tel Aviv, right next to Israel's Facebook office. Techcode, having been founded in China in 2014, has since spanned more than 12 overseas offices in Silicon Valley, Berlin, Seoul, Finland and Russia, and now has one of China's largest incubator networks.
While the company's international presence may sound threatening for an undergraduate, I was truly welcomed by my colleagues, who, using their entrepreneurial enthusiasm, pulled me into their working family. The great people there made the office a jovial place often filled with laughter and interesting conversation.
The staff there seemed to appreciate direct communication, and one of my supervisors even instructed me to take the initiative of asking for a task that interests me, rather than waiting to be arranged for one that I might find boring. Perhaps direct communication is the secret to success for this startup nation?
My task in the workplace was one of diversity. I helped to build-up the database of networking for Techcode and helped with holding all kinds of events in the workplace. The teachers of Tel Aviv University commonly visited the student's workplaces, making sure that we were actually getting experience and not just being coffee-fetchers for the office.
During my internship, Techcode held a roadshow for startups, a free meet-up for innovative startups with specific religious background, and accepted several delegations from China. One of these delegations was the Mayor of Shenzhen's Nanshan District, who gave a speech on the innovation of his region and shared his opinion on startup development. As for the roadshow, Techcode partnered with the Jiangsu Industry Technology Research Institution to try and help startups that are seeking venture capitalists in China. It was an amazing opportunity for students like myself to have heard from these government leaders and industry giants.
In my time interning, I discovered an interesting method for companies to achieve fast development by cooperating with smaller startups. When encountered with technological difficulties, many Chinese companies we dealt with would search in the Israeli market and purchase the startups that have the solutions for their problems, rather than investing in R&D teams within their original companies. These Israeli companies also benefited from this cooperation since it allowed them to expand into larger markets, scaling themselves up while doing it. So while the original startup founders may push the company from zero to one, the Chinese industry giants can help move it from one to 100. These kinds of collaborations drive me to think more about the importance of globalisation in the development path for a startup company.
Reflecting on my experience, the Tel Aviv Startup Adventure was not only a great opportunity for students to explore foreign business culture, but also an excellent way to learn how to network. In my workplace, there were more than 14 startups, including one that was created by Professor Dan Shechtman, who was awarded the 2011 Nobel Prize in Chemistry for the discovery of quasicrystals. While it's always difficult to start a conversation with people from different backgrounds, the innovative environment there encourages young people to get out of their comfort zone and try to meet everyone. After realising the importance of networking following this trip, I began actively attending my father's network events when I was back in China.
Besides meeting people in the same office, we strived to make full use of our time and attended as many meet-ups as we could. We went to Google campus, and an events held by Wix, Sosa and many other companies.
One thing I found about Israel that's fascinating is that it's so small that everyone is connected to everyone! This makes it very easy for new startups to get in touch with successful entrepreneurs or venture capitalists. Foreigners like us could visit the Australian Israel Ambassador, shake hands with Dov Moran, the inventor of the USB memory stick, and work in the same building with a Nobel Prize winner.
In addition to the excellent working experience, I also appreciated the history courses that we took at Tel Aviv University. Tour walking around Tel Aviv allowed us to better understand the complicated history of the Middle East.
When we weren't working, we experienced the special atmosphere of this holy land by travelling all over Israel. We visited Jerusalem, the Dead Sea, Ein Gedi, Masada and many other impressive places.
For the living arrangement, we stayed in dorms at Tel Aviv University. Which surprisingly was quite pleasant, as it gave time for the participants of the program to discuss our new ideas and to share our daily experiences. I am so grateful that I could learn from them and make such valuable lifelong relationships with fabulous young entrepreneurs.

To learn more about the UQ Idea Hub and what it has to offer, visit www.ideahub.uq.edu.au.