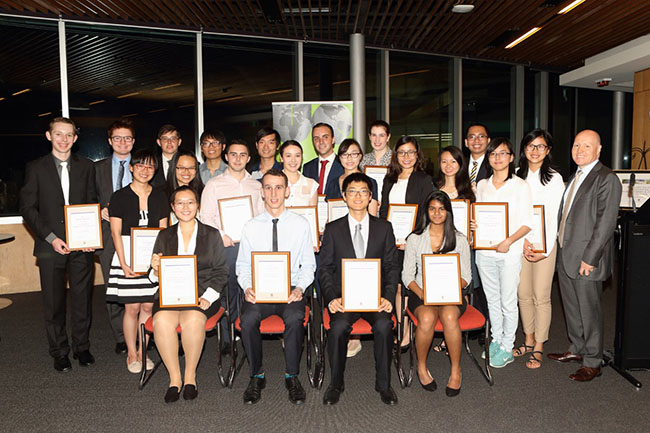 The School of Economics recognised some of its brightest and most talented students at the annual Economics Scholarships and Awards Ceremony on Tuesday 27 October.
In all, 39 domestic and international students were acknowledged for their academic excellence with the value of the scholarships, prizes and bursaries totaling over $600,000.
Professor Rodney Strachan, Head of School, congratulated each of the award winners and thanked the industry partners for their generous contribution and support.
UQ Alumnus, Dr Abby Kamalakanthan, Manager at Grant Thornton Australia and President of Young Economist (QLD), was the guest speaker at the awards ceremony.
Dr Kamalakanthan shared her fond memories of studying at UQ and provided a personal account of the many exciting, and sometimes unexpected, career opportunities she received after completing her economics degree.
Mitchell Quinn, winner of the Year 12 Domestic Scholarship, closed the evening by speaking on behalf of all the award recipients.
Mr Quinn thanked the School of Economics and industry sponsors and congratulated recipients on their hard work and achievements.
He also urged all winners to take advantage of every opportunity and if provided with the chance, help others to achieve their dreams as well.
Learn about the UQ School of Economics' scholarships, bursaries and prizes.