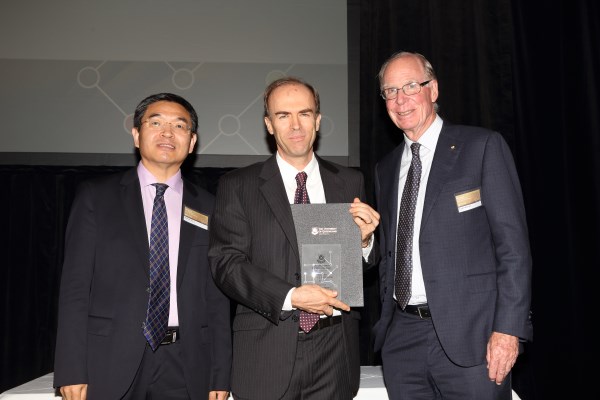 Carl Sherwood from the School of Economics was awarded the prestigious Awards for Teaching Excellence at UQ's 2015 Excellence in Teaching and Learning Ceremony on Monday 2 November.
Mr Sherwood was one of five exceptional UQ university teachers to win the award, which acknowledges outstanding teaching and learning practices aimed at engaging and inspiring students.
"I am thrilled to be recognised for developing innovative teaching practices that seek to empower students to do their best. It's been a lot of hard work, but totally worth it," Mr Sherwood said.
"I am so proud of the positive impacts that my unique teaching approach and learning resources have had on my students' grades and course retention rates."
Deputy Vice-Chancellor (Academic) Professor Joanne Wright said the award recipients had developed high-quality teaching practices and created inspirational learning environments for students.
"For us to continue producing high quality graduates, we must continue to keep students at the heart of what we do, which is what these awards are really about," Professor Wright said.
"Our strong industry connections and innovative approaches to teaching and learning produce an engaging and well-rounded learning environment."
Mr Sherwood received his award for using interactive and storytelling teaching methods to help first year economics students overcome their fear of learning statistics and increase self-belief in their ability.
"Many first year economic students have an innate fear of doing statistics, so my aim was to develop a teaching approach that made learning statistics enjoyable and meaningful," Mr Sherwood said.
"To achieve this I crafted a new statistics language using a series of fish farm analogical characters to try and create a set of stories to help students make sense of abstract concepts and hopefully beat the fear factor which is associated with learning statistics."
You can read more about Carl's Awards for Teaching Excellence here.
Carl Sherwood has also won the following teaching awards:
UQ Teaching Excellence Citation Award (2011)
UQ School of Economics Award for Excellence in Teaching (2010, 2011, 2012)
AAUT National Citation for Outstanding Contributions to Student Learning (2013)
UQ School of Economics Distinguished Teaching Award (2013-2015)