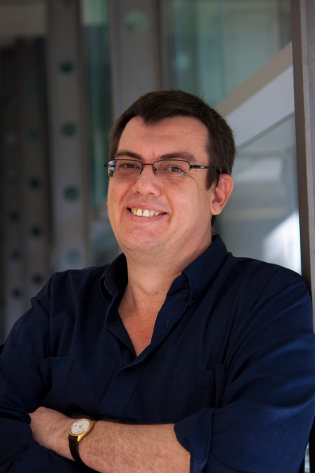 David Adamson will investigate the economic issues of One Health at the UK's Royal Veterinary College 
A research trip to the United Kingdom awaits The University of Queensland School of Economics academic David Adamson, who was one of 83 Australians to receive a 2015 Endeavour Research Fellowship.         
These fellowships are awarded by the Federal Government each year to support Australians undertaking research overseas.
In September, Mr Adamson will travel to the UK's Royal Veterinary College to investigate the economic issues of 'One Health' in collaboration with leading European researchers.
Mr Adamson said the One Health approach studies the interaction between human, wildlife and commercial animal health.
"My fellowship will allow me to contribute to a Trans-Domain COST-Action research project that evaluates One Health metrics," Mr Adamson said.
The project will examine the economic issues of malnutrition, zoonotic diseases (i.e. the Ebola and Hendra viruses), antimicrobial resistance, public health costs, food safety and international supply chain shocks.
Mr Adamson said the project's linkages will allow its findings to have a global impact.
"Our international research team includes European experts and major international organisations such as the US Centre for Disease Control, the World Health Organisation and the International Livestock Research Institute," Mr Adamson said.
"The lessons learned from this collaboration will also be applied to the Australian policy debate.
"For example, our research will be used to justify the ongoing separation of antibiotic use between animals and humans.
"The findings will also shape how Australia deals with emerging exotic disease risks and influence how Australia designs the rules underpinning international trade deals."
Mr Adamson is a Senior Research Officer at the Risk and Sustainable Management Group at the UQ School of Economics.
He is expected to return to UQ from the UK in January 2016.