Jason Lejcak, a high-achieving recent graduate from the School of Economics, was amongst those named for their achievements and widespread impact, in the 2019 UQ Alumni Awards.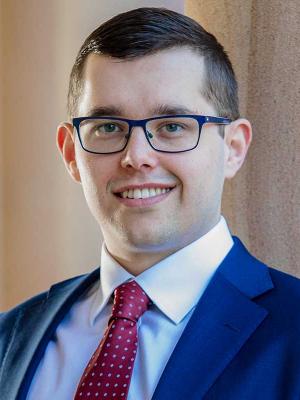 Of the 13 Alumni Award recipients, five were graduates from The University of Queensland Faculty of Business, Economics and Law.
Jason, pictured left, was the only recipient of the UQ Graduate of the Year award, a prize created and supported by Alumni Friends that is selected through a competitive application process across all faculties.
Jason recently graduated from a Bachelor of Economics with a GPA of 7, Honours Class I, and the University Medal (2018) as Class Valedictorian and member of the Dean's Honour Roll.

He was the first in his family to attend university and was awarded seven scholarships over the course of his studies for his outstanding academic achievement. 

During his time at the University, Lejcak became a peer mentor in Peer-Assisted Study Sessions (PASS) and later an academic tutor. He also participated in several competitions, including the Citi Global Markets Challenge and the CFA Institute Research Challenge in 2017, where his team was the National Champion and a National Finalist respectively.
During his winter and summer breaks in 2016 and 2017, Jason completed internships at the Queensland Investment Corporation.
"I always feared that I'd become complacent with my studies, but I guess that fear of complacency actually drove me to keep studying, because I thought: if I don't put in the work, I'm not going to get the outcome," Jason said. 

Jason was also awarded the Winter Research Program Scholarship in 2017, and alongside Professor Alicia Rambaldi, is producing a paper on how house prices are influenced by land regulation in the Melbourne housing market.

He has now been accepted into a graduate role at Citigroup as an analyst in markets and securities services.
BEL Faculty Deputy Executive Dean Professor Phil Bodman congratulated Jason and said the annual awards also shone a light on UQ's alumni community.
"Congratulations Jason — you are an outstanding representative of the BEL and UQ community."
"Between them, our 2019 award winners have contributed to the development of Australian public policy and the law, established charitable programs, foundations and fellowships, assisted survivors of human rights violations and mentored countless students," Professor Bodman said. 
BEL Faculty Director of Advancement Jo Nitz said she was thrilled to see so many BEL alumni receiving awards.
"In my short time within BEL, I have been delighted to meet with a number of our alumni community," she said.
"Building life-long partnerships with our alumni is an essential component of our engagement goals. It has many transformative impacts, including setting aspirational goals for our current and future students. 
"I'm looking forward to meeting more of our alumni and hearing about their journey since graduating from the University."
The award recipients were nominated by their peers and selected by a committee led by Vice-Chancellor and President Professor Peter Høj.
Jason will receive his prize, alongside the other UQ Alumni Awards and the UQ Sportswoman and Sportsman of the Year awards will be presented at the annual Courting the Greats ceremony on 16 October.
See the full list of 2019 UQ Alumni Award recipients.
Contact: BEL Communications, media@bel.uq.edu.au, +61 7 3346 9349.