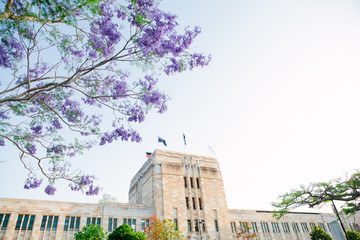 A highly regarded conservationist and Economics alumnus was one of two University of Queensland Faculty of Business, Economics and Law community members celebrated this week for creating positive change.
Within the School of Economics, Dr John Sinclair AO (Diploma in Agriculture '59, Bachelor of Economics '74) was posthumously named a 2019 Queensland Great for his advocacy and drive to protect the natural habitat of Fraser Island. 
The Queensland Greats Awards recognise exceptional individuals and institutions for their invaluable contributions to the history and development of Queensland.
BEL Faculty Executive Dean Professor Andrew Griffiths said the awards highlighted the many strengths of the BEL community.  
"Our BEL community members set an example for the rest of the world," Professor Griffiths said.
"Not only do they excel in their chosen field, but they also demonstrate exceptional leadership, community spirit and advocacy, and lift others with their words and actions.
"Congratulations to all of the recipients on their well-deserved awards." 
Read more about UQ's 2019 Queensland Greats
Contact: BEL Communications, media@bel.uq.edu.au