Economics student Hoang Phuong Linh Tran has won the inaugural FitzGerald Scholarship, created by Eminent University of Queensland alumnus Dr Vince FitzGerald AO.
The $10,000 a year scholarship is awarded annually to a high-performing honours applicant who will specialise in applied economics and econometrics. 
Dr Fitzgerald said he was inspired to create the scholarship after reflecting on his own Archibald Scholarship win as a student in 1966, which allowed him to focus on study.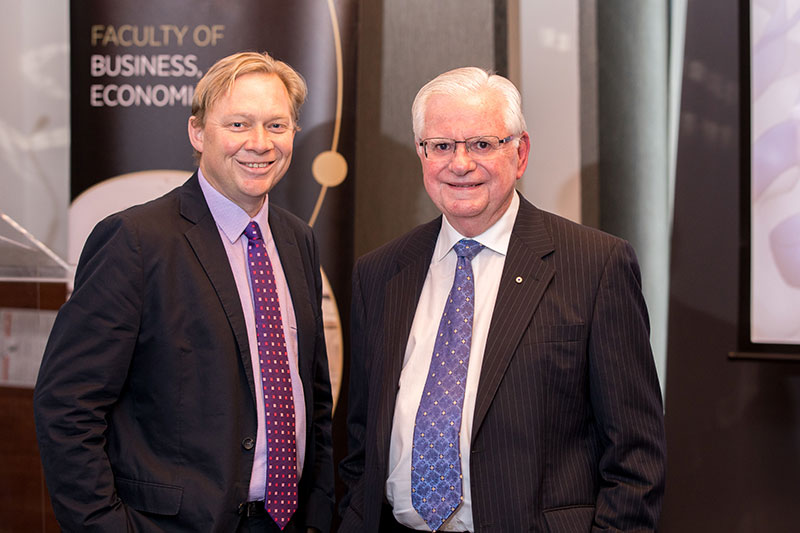 Ms Tran's research will apply methods in high-dimensional settings to many famous instrumental variables papers (who used original methods) and to compare the casual inference in both contexts.
This year's Archibald Scholarship has been awarded to Josephine Auer who will analyse the effect of auction design on strategic bidding behavior and efficiency outcomes in a reverse auction framework.
This prestigious award has been running since 1911, and has launched the careers of many of Australia's top economists.
Six other students were awarded School Bachelor of Economics (Honours) Scholarships: Elizabeth Baldwin, Jessica Dunphy, Bernardo Gonzalez Arechiga Martinez, Benedict Gordon, William McCarthy and Elena Ryan.
Six members of the cohort will receive $2500 each through the Honours Research Funds Scheme: Josephine Auer, Steve Charlton- Henderson, Benedict Gordon, William McCarthy, Giles Morgan and Nicholas Umashev.
Head of School and Academic Dean Professor Daniel Zizzo congratulated the students on their success.
"These scholarships recognise academic excellence, innovative thinking, and dedication to the study of Economics," he said.
"They allow students to focus on their scholarship and achieve even more, on their path to becoming global citizens and leaders of the future.

"I look forward to the progress of this year's cohort of scholarship winners."
Find out more about economics scholarships and prizes.