Promoting the public interest in Queensland on sectors such as water, energy and rail remains as passionate a cause as ever for leading Australian economist Professor Flavio Menezes, who has been reappointed chair of the Queensland Competition Authority (QCA).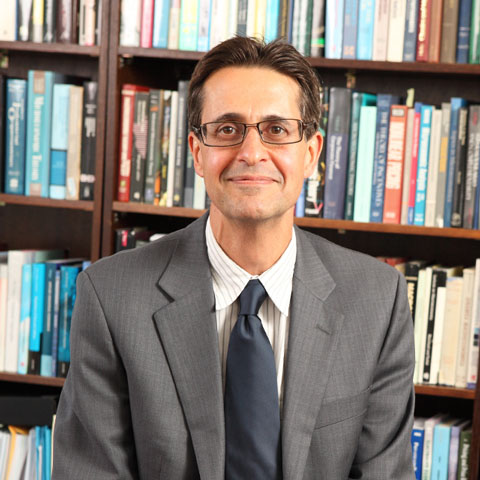 Announced by Deputy Premier and Treasurer Jackie Trad earlier this week, Professor Menezes – who is a senior researcher from The University of Queensland School of Economics – will continue in the pivotal role for the QCA until 31 December 2021.
Professor Menezes said he was honoured to be able to continue to serve the people of Queensland.
For Professor Menezes, understanding and applying economics for the benefit of the community is an interest that stretches back to his teenage days.
"I was first employed by a bank at the age of 14 and worked there for a decade, and this experience was life changing" Professor Menezes said.
"Very early on during my tenure at the bank I realised if I wanted to better understand how society and institutions work, I needed to learn economics.
"I wanted to understand not only how individuals and businesses reached economic decisions, but also how the workings of markets and government interventions influence those decisions."
"My aim was to be able to contribute, even in a very small way, to improving people's lives."
Since joining UQ in 2006, Professor Menezes has held a number of prestigious roles including head of UQ's School of Economics (2009-2015), vice-president and president of the Economics Society of Australia – Queensland (2011-2018), and chair of the Economics and Commerce Research Evaluation Committee for Excellence in Research for Australia (2018).
He is also an elected member of UQ's Academic Board, and of its Standing Committee, which serves as the executive of the Academic Board.
Professor Menezes was initially appointed to the QCA board in 2016, and has been chair since June 2018.
The role of the QCA is to regulate Queensland's economy and prevent monopoly businesses from manipulating prices or terms in the market.
"The QCA does this by setting or monitoring prices, or via other arrangements," Professor Menezes said.
"Businesses we regulate are in charge of key infrastructure such as railways and ports, or deliver essential services such as water and energy.
"Regulation keeps pricing competitive and provides fair access to infrastructure for all users."
Throughout his career, Professor Menezes's research and advisory work has influenced and improved the way goods, services and rights are allocated around the globe, and has contributed to the development of both theory and practice in competition and regulatory economics.
"However, I am most proud of my students, whose education in economics I have helped to shape during the past 25 years as an academic in Australia," Professor Menezes said.
"This includes individuals who became professors, central bank officers, regulators and senior economists in government and the private sector.
"More than prestige though, I hope I have been able to help, even in a small way, all my students to lead ethical, fulfilling lives."
Media: Gemma Ward, media@bel.uq.edu.au, +61 7 3346 0700, +61 439 651 107.