The University of Queensland has appointed a Chief Student Entrepreneur to inspire and mentor young innovators.
Third-year economics student Ben Coughlin, a successful entrepreneur in his own right, is the first person to hold the position.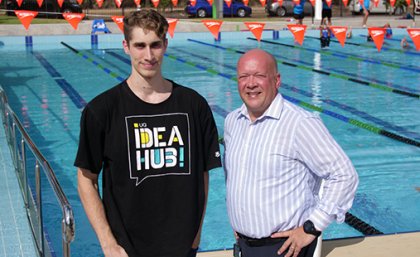 UQ Deputy Vice-Chancellor (External Engagement) Professor Iain Watson said Mr Coughlin, of Indooroopilly, was a role model for current and future students.
The newly created Chief Student Entrepreneur role sits within the UQ Idea Hub, a startup pre-incubator that connects young innovators with mentors, and provides workshops and learning experiences to entrepreneurially minded students.
"The Idea Hub is a powerful part of our commitment to provide student entrepreneurs with opportunities to fulfil their aspirations and start their own business ventures," Professor Watson said.
"As the inaugural Chief Student Entrepreneur, Mr Coughlin will help inspire and mentor other students in entrepreneurship and innovation."
Mr Coughlin runs the successful Backyard Coach swimming coaching business.
Read the full article here