More than 150 students from The University of Queensland embarked on their journey towards career success at the first BEL SET Employability Conference for 2018.
Hosted by UQ's award-winning Faculty of Business, Economics and Law Student Employability Team (BEL SET), the conference aimed to boost business, economics and law students' employability and help them learn new skills to get ahead.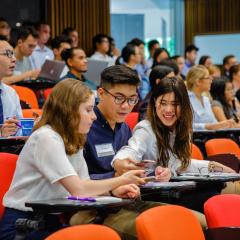 The one-day intensive conference was available to current BEL students and recent graduates.
This semester's itinerary included special guest presentations from the Royal Flying Doctor Service Queensland and EY, a campus recruiters panel session on vacation/graduate programs and clerkships, networking time with recruitment agents, and a range of interactive workshops run by BEL employability specialists.
Director of BEL SET Rhea Jain said there were endless takeaways for students.
"As we heard from our keynote speakers, find what you are passionate about and be tenacious and genuine in your pursuit of it," Ms Jain said.
Read the full article here.