Forget the late night study sessions, caffeine dependencies and early morning lectures. When Jason Lejcak looks back on his university experience in the years to come, he will remember the bonds he formed and the people who shaped him into who he is today.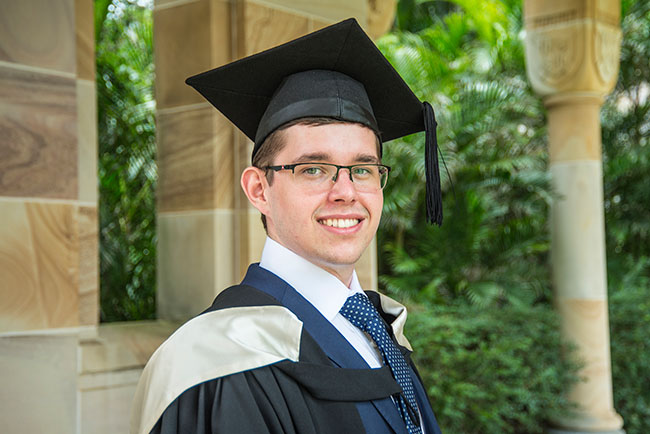 The Bachelor of Economics student graduates from The University of Queensland's School of Economics this week as valedictorian, having maintained a perfect GPA of 7.
For all of his academic accomplishments, Mr Lejcak said he credits at least part of his success to his friends, family and academic mentors.
"I've met some fantastic people at UQ, and the ones I've built meaningful relationships with have had a significant impact on my career choice, achievements and life goals," Mr Lejcak said.
"It was challenging for me at the very beginning because I didn't know anyone, but I've made some amazing, supportive friends through the PASS program and UQ competitions.
"Aside from my friends, I've developed close bonds with some of the lecturers and admin staff and they've looked out for me. That's one of the great things about university – it brings so many smart and like-minded people together."
The only child of parents who immigrated to Australia from Eastern Europe, Mr Lejcak was the first in his family to pursue a university degree.
"My parents have always focused on education because it's something they missed out on," he said.
"Throughout my entire academic life, they wanted to make sure I had the best opportunities. It's really important for them to see me succeed, so in a sense, my achievements are for them."
In his spare time, Mr Lejcak was an active participant in UQ extracurriculars.
He was a member of the national winning team in the 2017 Citi Global Markets Challenge, a competition that required students to create and present a strategy for a $500 million managed fund. With his UQ teammates, Mr Lejcak competed against 900 students from eight universities across Australia and New Zealand and ultimately placed first in the national finals.
Mr Lejcak was also involved in the recent CFA Research Challenge. His team reached the national finals and narrowly missed out on the top spot, placing third.
Over his summer and winter breaks in 2016, Mr Lejcak embarked on an internship with Queensland Investment Corporation (QIC) under the guidance of BEL Faculty alumnus, Susan Buckley. He has also worked as an ECON1310 PASS leader and participated in the UQ Winter Research Program, contributing to an international collaboration with researchers from UQ, Germany and the UK.
Mr Lejcak said none of the above would be possible without his UQ scholarships, including the School of Economics' Year 12 Australian Domestic Student Scholarship and the Faculty of Business, Economics and Law's Alumni Lecture Series Student Scholarship.
"My scholarships allowed me to spend time on extracurriculars because I didn't have to work to support myself," Mr Lejcak said.
"It was great to get all of that experience without the financial stress."
Post-graduation, Mr Lejcak hopes to start his Honours year in 2018. He is already in the midst of an interstate summer finance internship with Citigroup Sydney, inspired by his experiences in the Citi Global Markets Challenge.
Beyond that, he is weighing his options: either working for industry or pursuing an academic pathway and earning his PhD.
Mr Lejcak said he would advise all first-year economics students to "get involved".
"There's no algorithm or specific way to succeed," he said.
"For me it was just getting out there, meeting new people and being able to grow my connections.
"For a first-year who's a bit worried about meeting people – join student societies! That's one thing I didn't do that I personally regret.
"Whatever happens, you're studying at one of the best economics schools in Australia. Get involved and it will pay off."