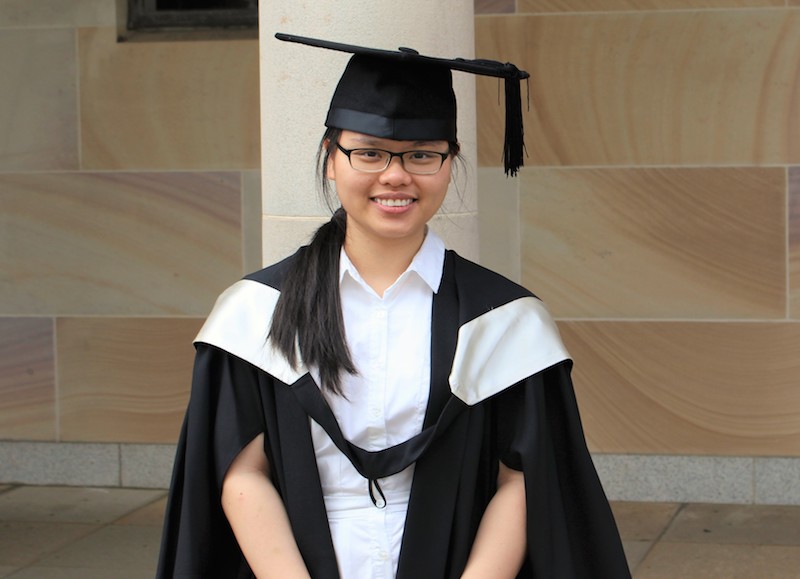 NEWLY-crowned BEL Faculty University Medallist Anh Nguyen has some sage advice for school leavers contemplating which degree to pursue – do not stress and enjoy your study.
Anh was earlier this month named one of 10 graduates from The University of Queensland's Business School, School of Economics and TC Beirne School of Law to be awarded a prestigious University Medal.
She completed her Bachelor of Economics (Honours) with a perfect GPA of 7 and the medal was the culmination of four years of unwavering dedication and commitment to her chosen field.
"School-leavers should not be too stressed about choosing a particular discipline when entering a university but make serious efforts during their tertiary study to figure out what interests them the most," she said.
"I have friends who switched to a different degree after one or two years or ended up pursuing a double degree. Many of them are now working in exciting interdisciplinary areas."
Anh came to UQ from her native homeland of Ho Chi Min City in Vietnam and she now has the world at her feet with some of the world's most famed universities including Princeton, Yale and MIT offering her the opportunity complete her PhD.
The 2016 School of Economics Valedictorian, Anh follows in the footsteps of some of Australia's most successful financial minds including, Graeme Wood, co-founder of Wotif.com, Bachelor of Economics, Julieanne Alroe, CEO and Managing Director of Brisbane Airport Corporation, Bachelor of Economics and Karen Chester, Deputy Chair of Productivity Commission, Bachelor of Economics (Honours), all of whom are alumni of UQ's internationally acclaimed School of Economics.
University Medals are awarded to UQ graduates who achieved outstanding academic results throughout the duration of their program. A basic requirement is that the academic performance of each student who is nominated for a University Medal must go above and beyond the requirements of their degree.
Currently back in Vietnam enjoying some very well-deserved down-time, Anh said she chose to study at UQ solely because of the School of Economics' curriculum.
After high school, while many of my friends went on to study pure mathematics, computer sciences or engineering, I decided to study economics with the hope to apply my mathematical skills and intuition to studies on individual and social choices," she said.
"I chose to attend UQ because of the strong focus on quantitative methods and the breadth of its economics program."
The other BEL students awarded a medal were:
Samuel Walpole, Bachelor of Laws (Honours)
Mohammud Hafeez-Baig Bachelor of Laws (Honours)
Jordan English, Bachelor of Laws (Honours)
Michael Maynard, Bachelor of Laws (Honours)
Suyash Mahto, Bachelor of Commerce (Honours)
Lingfeng Geng, Bachelor of Commerce (Honours)
Yuxia Zou, Bachelor of Commerce (Honours)
Wanting Sun, Bachelor of International Hotel and Tourism Management (Honours)
Rui Yan Leon Ng, Bachelor of Business Management (Honours)
Media: Grant Stockwell, g.stockwell@uq.edu.au,