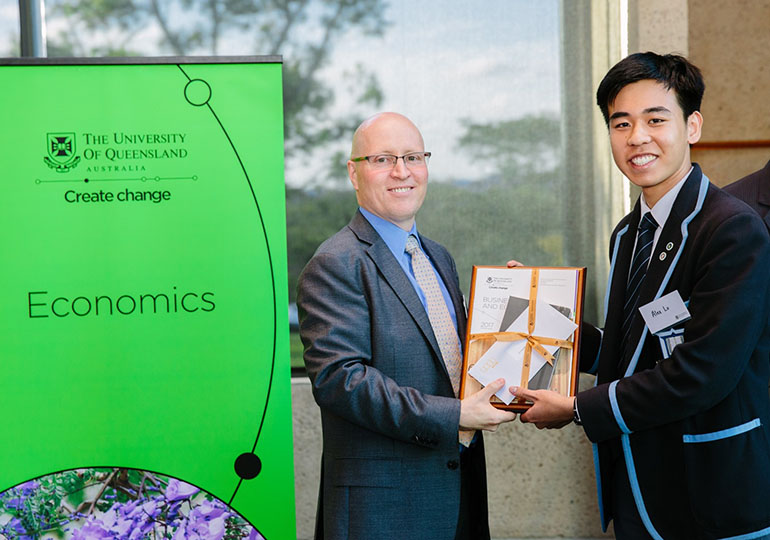 Seven students from three high schools, including Brisbane State High School, Brisbane Grammar School and Queensland Academy - Maths, Science & Technology Campus, have blitzed the field, winning all prizes in the QETA and UQ 2016 Student Economics Competition.
Over 2190 year 11 and 12 students from more than 60 schools across Queensland entered the competition that is organised by Queensland Economics Teachers Association (QETA) and sponsored by The UQ School of Economics.
The competition requires students in each year level to answer 40 multiple choice questions in 45 minutes, covering topics relating to current economic issues and core units of the Queensland high school economics curriculum.
This year saw Alex Lo, from Brisbane Grammar School, outperform his peers across Queensland for two years running, winning prizes in both year 11 and 12.
Doug Cave, secretary of QETA, was very proud of Alex's accomplishment and said he had achieved the near impossible.
"I would like to congratulate Alex on his outstanding success.
"The competition has been running for nearly 30 years and awarding a student two years in a row for both the year 11 and 12 competition is very rare," Mr Cave said.
"This certainly places Alex at the top of his year level."
Alex Lo, who is the year 12 competition winner, said he feels immensely happy to be rewarded for the hard work and dedication he has put into studying economics.
"I am extremely honoured to have won this prestigious prize and to be recognised for my efforts," Mr Lo said.
"I enjoy how I can apply the economic knowledge learnt in the classroom to make sense of many issues surrounding us every day, especially in regards to policy making and market forces.
"I chose to study economics at high school because I wanted a solid foundation for my plans of pursuing a career in the financial sector in the future."
During the presentation, Professor Rodney Strachan, Head, UQ School of Economics, congratulated all the students on their success and academic prowess, as well as presented each of them with their award.
The UQ School of Economics is honoured to be sponsoring this important competition and is very proud of the students who won prizes this year.
The winners list of the QETA and UQ 2016 Student Economics Competition is below.

Year 11 Competition Winners
1st Place

Jillian Wong – Queensland Academy - Maths, Science & Technology Campus

2nd place (tied)

Aditya Chilukuri – Brisbane State High School
Youmin Chen – Queensland Academy - Maths, Science & Technology Campus
William Wang – Queensland Academy - Maths, Science & Technology Campus

Year 12 Competition Winners
1st Place

Alex Lo – Brisbane Grammar School

2nd Place (tied)

Grace Houlihan – Brisbane State High School
Robert Coulter – Brisbane Grammar School