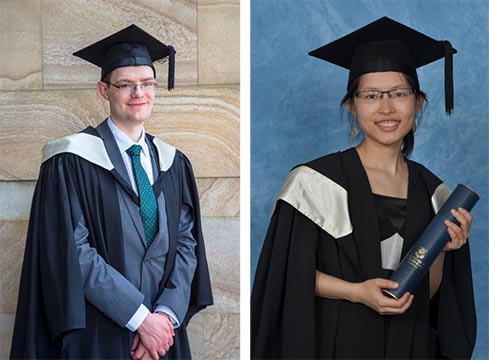 Two University Medals were awarded to Bachelor of Economics, Honours students Christopher Heard and Mai Phuong Nguyen at their graduation ceremony on 21 July 2016.
UQ University Medals are only awarded to the top five percent of first class honours graduates with a GPA of 6 or greater.
Mr Heard and Ms Nguyen said their secret to outstanding academic results was dedication to study and learning, through the support of university networks, family and friends.
"It was very exciting to receive the University Medal, which is essentially recognition for a lot of hard work both on my part and the part of family members and academics who provided essential support," Mr Heard said.
"I wouldn't be an economist if I did not emphasise that the Honours year was an excellent investment, which offered exceptional training and a pathway to great work opportunities, resulting in my economics position at the Australian Competition and Consumer Commission (ACCC) in Melbourne."
Ms Nguyen was an international student from Vietnam and the recipient of the prestigious School of Economics Centenary Scholarship.
"Studying economics at UQ was an incredible journey that was particularly challenging, however with the tremendous help from academic supervisors, lecturers and friends, I achieved an amazing result," Ms Nguyen said.
"The knowledge and skills I acquired through my undergraduate degree and Honours year gave me a distinct job candidate advantage, resulting in an analyst position at Deloitte."
Professor Rodney Strachan, Head of School, congratulated both students on their University Medals and said it places them among the best of UQ graduates.
"It is not surprising graduates of our Bachelor of Economics Honours program with exceptional academic results have excellent career outcomes," Professor Strachan said.
"Over the past decade, Economics Honours graduates were offered positions at the Reserve Bank of Australia, the Federal Treasury, Deutsche Bank, the Hong Kong Monetary Authority, the Commonwealth Department of Foreign Affairs and Trade and the Australian Energy Regulator as well as private consulting firms and companies such as Deloitte and the global engineering company AECOM."
If you would like more information about the School of Economics Honours program, visit here.