Recently the School of Economics presented our top tutors with a Teaching Excellence Award. This accolade is now awarded to the top 5 tutors and the outstanding tutors of 2016 were: Sophie Byth, Ellen Wood, Karim Moummar-Rodriguez, Shunji Mei and Mike Nguyen. They also received a prize of $500 each.
The Teaching Excellence Award is presented to tutors with the highest weighted scores in the UQ Student Evaluations of Tutors (SETutor) questionnaire, which is conducted each year.
Dr Bruce Littleboy, UQ Economics Senior Lecturer and Chairman of the School of Economics Tutor Selection Committee said, "The evaluations of our tutors by their students have steadily risen from high to very high. Aptitude, commitment and training explain their extraordinary success. So many of our tutors are stellar that we have expanded the number of recipients of our Teaching Excellence Awards to 5."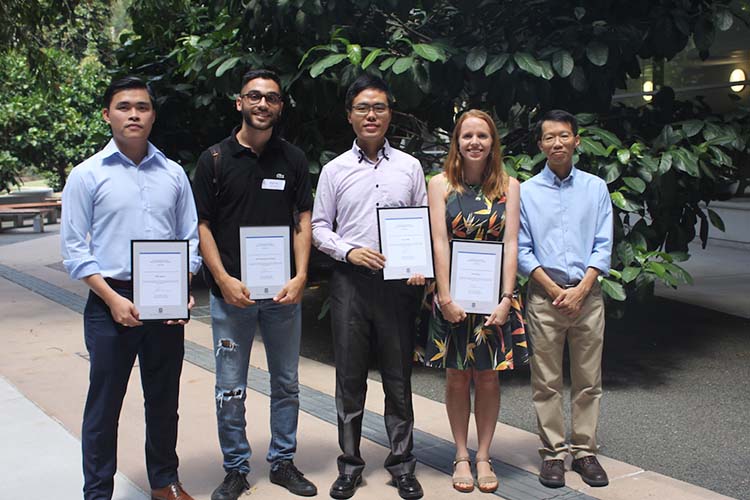 The School also endowed Distinguished Teaching Awards to tutors who obtained a weighted score of at least 4.50 out of 5.00 in the SETutor evaluation. Congratulations to the following who received a Distinguished Teaching Award.
Kayla Broughton
Alice Naughton
Eden O'Sullivan
Hannah Barnes
Marko Bogicevic
Sam Bullen
Anne Cumpston
Abbie Wang
Dan Maggacis
Prateek Choudhary
Josh Appleton-Miles
Thao Thai
Josh Roser
Ella Evans
Alex Reig
Tom Gardiner
Phillip Womack
Rhys Downham
Brendan Markey-Towler
Kevin Nguyen
Namira Rahman
Ganjar Wicaksono
Alex Paton
Miranda Murray-Douglass
Christina Zhang
Thu Nguyen
Lucy Nguyen
Find out more about the SETutor evaluations.