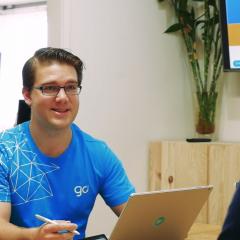 In a recent post for UQ's blog Small Change, Lauretta Acharya shared the story of one of the university's key change maker and School of Economics alumna, Andrew Barnes.
Located in an underwhelming brick office building with a chiropractor, massage parlour and finance broker, the Go1 office looks like your average suburban business. However, beyond this modest façade is a thriving e-learning start-up with eager young tech and business professionals, funky collaborative workspaces and a growing presence overseas.
At the helm of Go1 is CEO and UQ PhD student Andrew Barnes. In 2014 Andrew turned his love of learning and technology into a career when he co-founded Go1, a company specialising in online learning management tools.
"The mission behind Go1 is to unlock positive potential in people. And we do that through our education technology product," Andrew says.
Continue reading Andrew Barnes' create change story