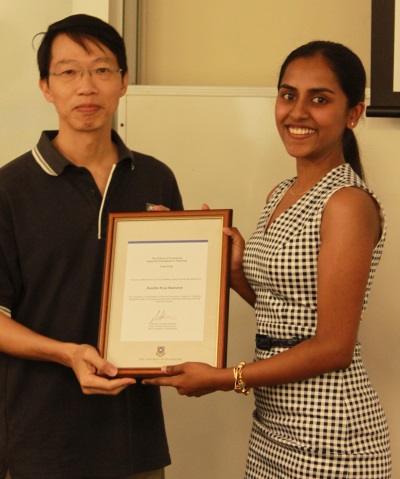 The School of Economics would like to congratulate Kavitha Baskaran on winning the Teaching Excellence Award for two years in a row at the 2015 Tutor Awards Ceremony.
The Teaching Excellence Award is presented to the tutor who obtains the highest weighted score in the University of Queensland Student Evaluations of Tutors (SETutor) questionnaire each year.
Kavitha was honoured to win the award for a second time and said the secret to her success is having a genuine interest in helping students and hard work.
"It is extremely rewarding to know that my students were appreciative of my efforts and that the university acknowledges teaching excellence."
"To me, one of the most important aspects in becoming an effective tutor is putting in the hours to prepare engaging course content."
"As a tutor there is nothing more satisfying than making a positive difference to a student's learning experience"
At the ceremony, the School also awarded 24 Distinguished Teaching Awards to tutors who obtained a weighted score of at least 4.50 out of 5.00 in the SETutor evaluation.
Congratulations to the following list of tutors who received a Distinguished Teaching Award in 2015:
Kavitha Krup Baskaran
Sophie Byth
Olivia Lee
Patrick Duenow
Richard Halabi
Samir Bhagat
Christina Zhang
Cedric Wong
Jared Peut
Peter Wieland
Kirtan Jamnadas
Sheela Rai
Yan Meng
Ginevra Lesley Jarmaine
Bill Stephens
Tran Nguyen
Li Tran
Jake Sullivan
Tim Guazzo
Phillip Womack
Karim Moummar-Rodriguez
Alice Naughton
Jonathon Sklavos-Creevey
Terence Yeo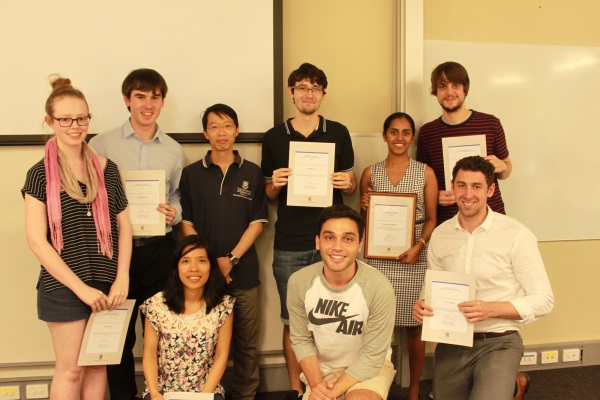 Distinguished Teaching Award winners
Visits the UQ website to find out more about the SETutor evaluations.