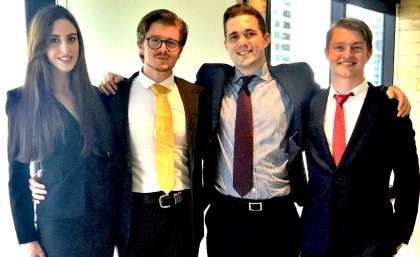 Reposted from original article
Four University of Queensland students will compete in an international business competition in Dubai in April, after notching up UQ's third consecutive win in a national tournament.
Judges in the Australian sector of the KPMG International Case Competition praised the UQ team members for their innovative, creative and realistic solutions to the set challenge, which centred on the Qatar-FIFA World Cup scandal.
The national champion team – from UQ's Faculty of Business, Economics and Law – is now preparing to take on competitors from 23 countries in the international finals.
Team member Nicole Brazier, a final-year law and science student, said the competition tested students' flexibility, teamwork and ability to come up with innovative business solutions to real problems.
"Teams have three hours to prepare a presentation and responses on a realistic business scenario and they then answer questions from KPMG executives," Ms Brazier said.
Her teammates are:
William Randall - final year commerce student
Edward O'Brien - commerce student
Joshua Roser - commerce/economics student  
"Our team is named 'Look At Me Now, Dad Consulting' and has a strong combination of academic excellence and commercial experience," Ms Brazier said.
"We are all involved in the UQ community in volunteer and leadership positions.
"Most of us met in person for the first time only on the morning of the state finals, but we quickly established a cohesive and friendly team.
"Over the summer, we did a lot of preparation as a group to ensure our state win was more than just beginner's luck."
Ms Brazier said the team was excited about participating in the world finals and hoped to follow in the winning footsteps of 2014 UQ team members, who have been providing advice and guidance.
The 2014 team comprised Lachlan Campbell (Bachelor Law/Commerce), Daniel Mouat (Bachelor Commerce/ Economics), Jonathan Black (Bachelor Law/ Commerce) and Samuel Leigh (Bachelor Law/ Commerce).
The KPMG International Case Competition has been running for 13 years.
Media: Danielle Koopman, d.koopman@uq.edu.au, 07 3346 0700