Higher Degree Research Programs
The UQ School of Economics is one of the largest, most influential and prestigious Economics departments in Australia and the Asia-Pacific. Across all major global rankings, UQ is consistently among the top 100 universities in the world. According to RePEc, UQ Economics ranks among the top 50 economics departments in the world. Its diverse research strengths span economic theory, applied economics and econometrics. The faculty consists of some of the foremost researchers and accomplished scholars in their specialisation, along with a growing cohort of exceptional junior academics. Our faculty consistently claim an over-proportionate share of Australia's Economics honours, competitive research grants, prestigious fellowships and high-quality publications.
Doing a UQ PhD within the School of Economics
Overview
Our PhD program is designed for students with prior training in economics or a cognate discipline with a strong analytical/mathematical component, who wish to acquire the advanced skills needed to practice as a professional economist in the public or private sector. Admission to the program is highly competitive and only outstanding candidates with exceptional research potential are selected.
Entry requirements and pathways
The minimum requirements for entry into the PhD degree can be found on the website of the UQ Graduate School.
The School of Economics offers a one-year master degree (MAdvEcon) in preparation for the PhD degree. The Master of Advanced Economics (16 Units) has eight compulsory foundation courses. This program is designed for applicants who have previously completed a relevant bachelor honours degree or equivalent, or a relevant postgraduate degree in economics or a cognate discipline. Students who have previously completed a relevant bachelor degree or equivalent can enter the Master of Advanced Economics (24 Units). These students additionally have to write a research thesis. Successful MAdvEcon students are then encouraged to apply for the UQ PhD degree. For information on admission and scholarships for the MAdvEcon see below.
Students who successfully completed the UQ Bachelor of Economics Honours program or a degree comparable to the MAdvEcon from another institution are encouraged to apply directly for the PhD degree. The following diagram summarises recommended pathways to the PhD program for undergraduates, honours and graduate students.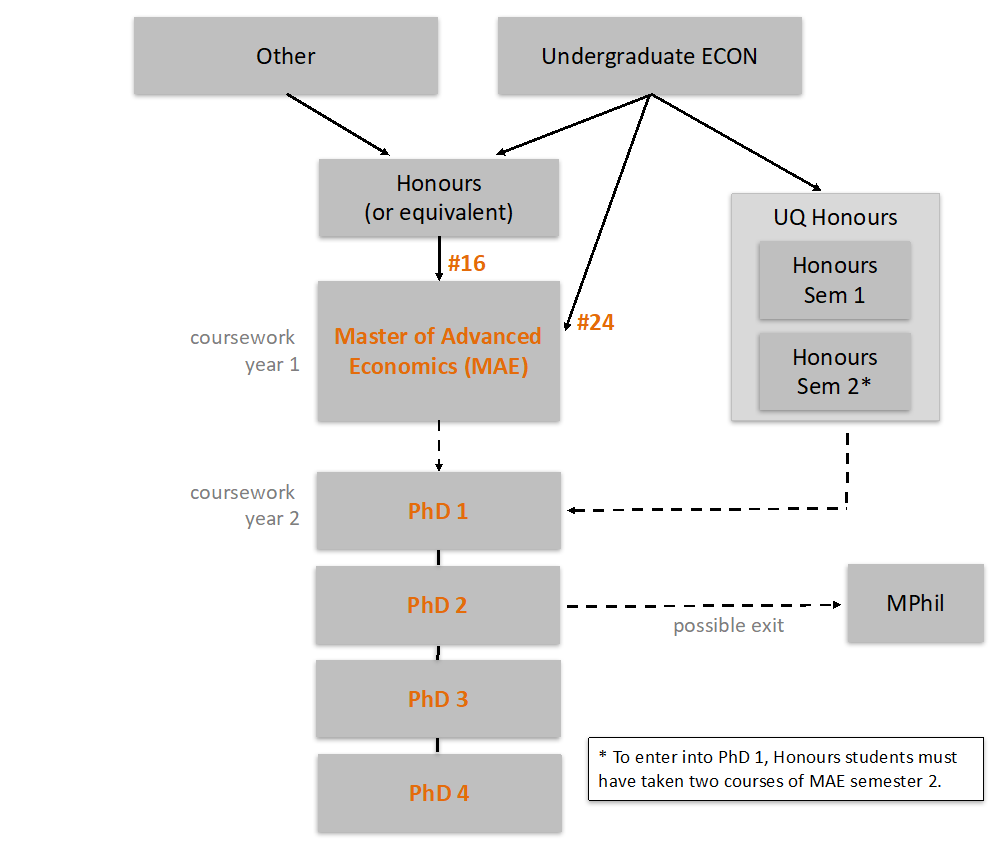 Admission & Financial Support for the MAdvEcon
Your application package for the MAdvEcon should include relevant supporting documents (academic cv, previous academic transcripts, evidence of English language requirements, GMAT/GRE score sheets) and a minimum of two referee reports. There is no need to locate a supervisor before applying.
Applications will be considered in two rounds. The deadline for the first application round is 30 April and the deadline for the second application round is October 31. Successful candidates are eligible for a scholarship package of AU$30,000 per annum and a tuition fee waiver. The scholarship is offered for the duration of the MAdvEcon degree. Upon successful completion, the School of Economics will then support the candidate's application for a UQ PhD scholarship. The School tops up all UQ PhD scholarship to AU$30,000 per annum. Entry to the program is for RQ 1, (January) only.
The online application for the MAdvEcon can be found here: MAdvEcon (16 units) and MAdvEcon (24 units). For inquiries, please contact rhd-economics@uq.edu.au.
PhD Degree
During the first semester within the PhD Degree, students take fields courses delivered in three modules. The field courses might change from year to year.  Here is a non-exhaustive list of courses that might be on offer:
Monetary economics/frictions
Experimental/behavioural economics
Mechanism design/applied theory
Productivity analysis/networks
Growth/development
Industrial organization/public policy
Environmental/resource economics
Political economy/applied microeconomics
Labor and Development
Applied Econometrics
In the second semester, students attend the PhD Research Colloquium and work on their second-year research paper.
Semester 1:
ECON8800-Advanced Studies in Economics 1
ECON8810-Advanced Studies in Economics 2
ECON8820-Advanced Studies in Econometrics
Semester 2:
PhD Research Colloquium
Completion of a research paper
The subsequent three years consist of research and writing the PhD thesis. The thesis research is supported by a three-stage milestone process involving the confirmation of candidature, mid-candidature, and thesis review milestones. Throughout the program, students benefit from the intellectually stimulating environment at UQ. Our research oriented and internationally recognised faculty provide advice, guidance and supervision in all fields of specialisation. The School actively supports the placement of PhD graduates in positions at prestigious universities, government agencies and private corporations.
School of Economics MPhil Program
Information about the Master of Philosophy (MPhil) program can be found on the Graduate School website.
The coursework requirements for MPhil candidates in the School of Economics are:
| | |
| --- | --- |
| Summer compact course | Quantitative Skills for Economics (ECON8000) |
| Semester 1 | Micro A (ECON6010/8010) |
|   | Macro A (ECON6020/8020) |
|   | Metrics A (ECON6300/8300) |
| Semester 2 | Two elective courses at 6000, 7000 or 8000 level |
MPhil candidates are required to complete four compulsory core courses in semester 1 followed by two elective courses at 6000, 7000 or 8000 level.  The choice of elective courses has to be approved by the advisory team and the HDR Coordinator. Any exemption from these requirements has to be approved by the HDR Coordinator. 
MPhil candidates are required to pass all courses. No supplementary examinations will be offered. If candidates fail one or more courses, they are liable for termination of candidature.
MPhil Applications
If you are interested in pursuing an MPhil degree with the School of Economics, please complete the University's online application form.
All applicants are required to identify a supervisor on the online application. Please name A/Prof Heiko Gerlach, the School of Economics HDR Coordinator, in the "Supervisor's Name" box. The UQ School of Economics requests that applicants do not make direct contact with academic staff prior to making an application. The School of Economics endeavours to match applicants with a supervisor after an application has been submitted and assessed for eligibility to help streamline the administration process.
Please note that as we have a limited number of spaces in our HDR program and MPhil and PhD applications are considered in the same application pool, MPhil applicants have a much smaller likelihood of being invited in to the program. 
Applications close on 31 October. Entry to the program is for Research Quarter 1, (January) only.​
Other useful information