Without a doubt, The University of Queensland's economics student community has persevered through a year of extraordinary upheaval as the global pandemic disrupted every aspect of their academic and personal lives.
Despite the many challenges, the School praises their resilience and hard work and, in particular, recognises 28 outstanding economics students who were awarded scholarships, prizes and bursaries.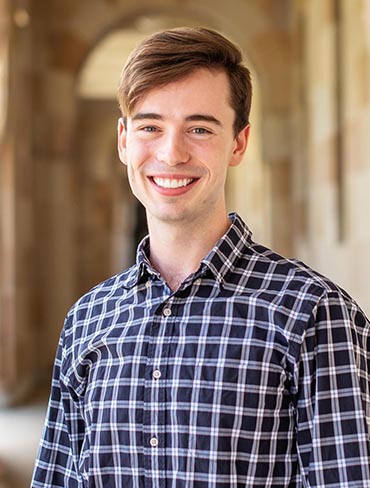 Reflecting on his achievement as the 2020 Microeconomics Honours Prize winner, Kieran Gibson attributed his success to intrinsic motivation and the support from his friends, supervisors, and lecturers.
"This year has been challenging to say the least, but the continual guidance and encouragement of my support network was integral to overcoming the difficulty of Honours," Mr Gibson said.
"Winning this prize makes me feel excited about being recognised for my hard work in the field of economics.
"I know I'm on the right track because I'm excited when looking forward and grateful when looking back."
In a year full of disturbances, scholarship winner Thu Van Nguyen said she felt grateful she was given the opportunity to pursue her interest in econometrics.
"I wanted to learn about econometrics and UQ is among the few universities that have an econometrics master's program,"  Ms Nguyen said.
"The UQ Economics Vietnam Scholarship is a great financial help for me and my family. I can focus on studying and enjoying my life in Brisbane instead of worrying about the expenses and trying to find a part-time job to afford my living."
Head of School and Academic Dean Professor Daniel Zizzo said now is the time to celebrate the achievements and dedication of the School's high-achieving economics students.
"It is with great pleasure and admiration I congratulate our scholarship, prize and bursary winners on their exceptional efforts this year," Professor Zizzo said.
"2020 has been difficult for the whole UQ economics community, so it's uplifting seeing students overcoming many adversities to adapt and excel.
"I would also like to extend my sincere gratitude to the generous donors who share our vision to empower students to be adaptable, game-changing and global leaders and citizens of the future."
Congratulations to all the scholarship, prize and bursary winners.
| | |
| --- | --- |
| Award | Winner |
| Archibald Scholarship | Sally Rafter |
| Australian Finance Industry Association Prize in Economics (2019) | Isobel Kayrooz |
| Bachelor of Economics (Honours) Scholarship | Kieran Gibson |
| Bachelor of Economics (Honours) Scholarship | Jiachen Han |
| Bachelor of Economics (Honours) Scholarship | Liam Hickey |
| Bachelor of Economics (Honours) Scholarship | Bingxian Lee |
| Bachelor of Economics (Honours) Scholarship | Nicholas Markovitch |
| Bachelor of Economics (Honours) Scholarship | Minh Thang Pham |
| FitzGerald Scholarship | Nguyen Bang Chau Hoang |
| IES Foundation Year Scholarship | Su Linn Linn |
| IES Foundation Year Scholarship | Boa Qian (Edwin) Liu |
| IES Foundation Year Scholarship | Hui Liu |
| IES Foundation Year Scholarship | Yuzhi Liu |
| IES Foundation Year Scholarship | Hongyu Su |
| IES Foundation Year Scholarship | Tiantian (Helen) Xu |
| Marsden Jacob Prize in Memory of Tony Hand (2019) | Sally Rafter |
| Microeconomics Honours Prize | Kieran Gibson |
| Queensland Competition Authority Prize | William Ciereszko |
| Richard W Staveley Memorial Prize | Hamish Greenop-Roberts  |
| Synergies Consulting Honours Prize | Nicholas Markovitch |
| Tactical Global Management Honours Prize | Jeremy Lwin |
| The Jean W Maddock Bursary | Jarrod Bourke |
| The Norman C Maddock Bursary | Annie Ying |
| Tomas Riha Scholarship | Michaela Gyasi-Agyei |
| Vietnam Postgraduate Scholarship | Thu Van Nguyen |
| Warren Braxton Bannister Bursary | Chang-Hua Lu |
| Year 12 Domestic Australian Scholarship | Abbey Anstey-Walsh |
| Year 12 Domestic Australian Scholarship | Caitlin Dorrough |
| Year 12 Domestic Australian Scholarship | Lachlan Jones |
| Year 12 Domestic Australian Scholarship | Benjamin Pyne |
| Year 12 Domestic Australian Scholarship | Connor Walker |