According to University of Queensland School of Economics honours graduate Matthew Newcombe, successfully completing the honours year is a lot like learning to understand fine art.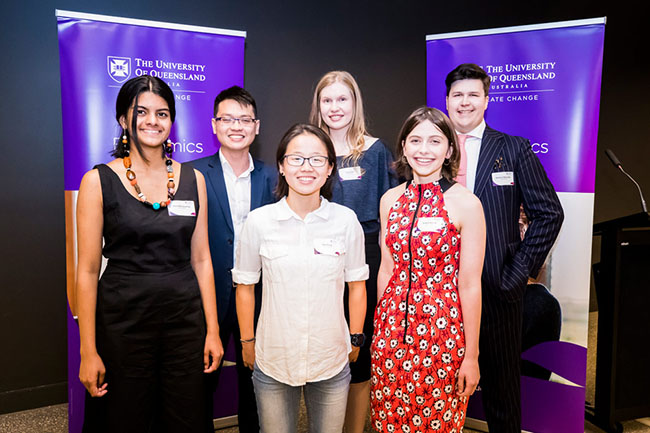 "Honours isn't about learning masses of new theory or methodology; it's about deconstructing topics to a molecular level, and then rebuilding them with a greater understanding of the subject matter," Mr Newcombe said.
"Anyone can look at a painting in a gallery and admire its beauty, but until you study the brushstrokes, the technique and style of the painter, you can't fully appreciate the painting.
"Honours is about studying the brushstrokes. Establishing this strong foundation is what allows you to go from simply learning economics to having the capacity to contribute to its development."
Mr Newcombe spoke on behalf of the graduating honours class of 2018 at the School's recent Honours Celebration Evening.  
The event brought together students and their family, friends, supervisors, School staff, industry guests and sponsors.
Head of School and Academic Dean Professor Daniel Zizzo said the night was an opportunity to celebrate the achievements and dedication of the honours class.
He noted the impressive employment track record of honours alumni, whose ranks include members of the Reserve Bank of Australia, government secretaries, civil servants, economics professors, investment consultants and business analysts.
"I have every confidence that our 2018 honours students also have the ability to become leaders in their field, whether that be academia, public policy or the private sector," Professor Zizzo said.
Honours class of 2012 alumnus Zach Zhang was the night's special guest speaker.
Mr Zhang said each member of the graduating class should feel confident in their decision to complete their honours year at UQ.
"My experience tells me that UQ's economics honours program really differentiates its graduates from their peers," he said.
"I admire the choice you have made, I admire the amount of thinking you have put in designing your future, and I admire your commitment to adhere to the path you have chosen and accomplish it."
Three industry and School-sponsored prizes were awarded to students for their outstanding achievement in specific areas of the honours program.
2018 School of Economics Honours Prize, for the best overall performance in ECON6010 Microeconomics A and the Honours Thesis (Microeconomics): Wanying Huang
2018 Tactical Global Management Honours Prize, for the best overall performance in ECON6020 Macroeconomics A and the Honours Thesis (Macroeconomics): Xinyi Xie
2018 Synergies Economic Consulting Honours Prize, for achieving the highest overall proficiency in the Honours Thesis: Wanying Huang
Each graduating student also received a class gift presented by Professor Zizzo.
Mr Newcombe said the defining feature of his honours experience was that he never felt alone.
"As obstacles arose, the cohort always offered its support to one another," he said.
"Despite the myriad of economic theories, methodologies and skills developed throughout the year, this remains the single most important lesson that honours imparts upon its participants: to trust others, to listen, and to offer support."
Mr Newcombe also thanked the parents, friends, thesis supervisors and professional and academic staff in the room for their support, patience and kindness.
Congratulations to the School of Economics honours class of 2018:
Arabella Bennett
Emily Dahl
Wanying Huang
Jason Lejcak
Hai Pham
Matthew Newcombe
Scott Williams
Ransi Weerasooriya
Xinyi Xie
Find out more about the School of Economics Honours program.