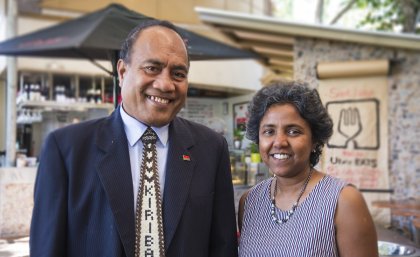 For the first time since US President Barack Obama's historic visit in 2014, The University of Queensland has welcomed another international president to its St Lucia campus – this time, a UQ alumnus. 
The President of the Republic of Kiribati, His Excellency Taneti Maamau, took a trip down memory lane during a visit to his alma mater this week.
The Master of Economic Studies alumnus met with UQ Pro-Vice-Chancellor (Research) Professor Mark Blows, and researchers including his former professor at the School of Economics, Emeritus Professor Clement Tisdell, to lay the groundwork for research partnership opportunities. 
President Maamau said Kiribati – a Central Pacific sovereign state made up of 33 small, developing island-countries – faced many economic and environmental challenges common to small islands, including rising sea levels caused by climate change.
 "Climate change has a great impact which is dramatically affecting the lives and welfare of my people," President Maamau said.
"My government is actively pursuing appropriate strategies to make Kiribati more climate-proof and resilient, while at the same time building the capacity of my people to remain on their beautiful islands.
"Other pressing issues are the cost and low quality of education and health services and systems, poor and inadequate transport and infrastructural development.
"I hope to work with UQ researchers going forward to help resolve some of these challenges."
During his visit, President Maamau spoke to researchers from the School of Economics, Centre for Social Responsibility in Mining at the Sustainable Minerals Institute, School of Environment and Earth Sciences and School of Civil Engineering.
President Maamau said he had fond memories of his studies at the School of Economics.
"As a student, I enjoyed meeting and speaking with my teachers," President Maamau said.
"Emeritus Professor Tisdell was one of my environmental economics lecturers. It was through him that I managed to re-open my connection to UQ."
President Maamau is currently attending the UN Climate Change Conference in Germany.
Before his UQ studies, President Maamau completed his undergraduate degree at the University of the South Pacific, Fiji, and began working as a Planning Officer with the Kiribati Ministry of Finance and Economic Development. He made the move to Australia in 2000 to begin his Master of Economic Studies.
After graduating from UQ in 2002, President Maamau continued to work for the Ministry before winning the presidency of Kiribati in March 2016.
Media: Alysha Hilevuo, a.hilevuo@uq.edu.au, +61 7 334 69349, +61 (0) 428 884 097.