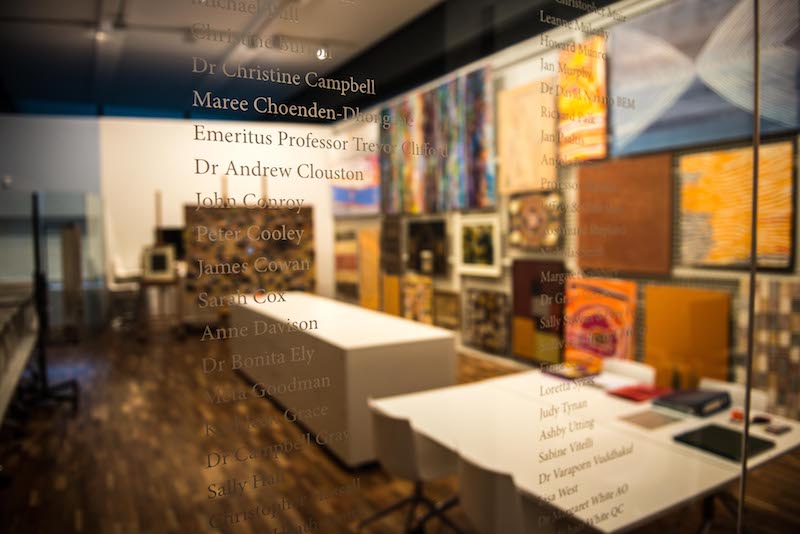 MBA students were recently treated to an innovative economics teaching session using art valuation as a case study.
The UQ Art Museum is committed to the idea that visual art is part of student learning – not just for students of art history but across UQ's multiple disciplines and faculties.
Staff of UQ's School of Economics agree and, thanks to the vision of Dr Ian MacKenzie and Professor Flavio Menezes,  three enormously successful sessions were piloted at the Art Museum with the accelerated MBA program. These took place in the Art Museum's Alumni Friends of UQ Collection Study Room, a dedicated facility where students can get up close with works from the UQ Art Collection that have been selected by UQ academics for teaching purposes.
Students were co-taught by Bruce Heiser, Director of Brisbane's Heiser Gallery, an expert art dealer and valuer, and Dr Holly Arden, UQ Art Museum's Senior Education Manager. Students gained insights into the production and sale of artworks in the primary and secondary markets, how works are priced and the variables that affect market prices, how cultural significance is defined, and the value of the Australian secondary market compared with international markets.
With a history of some seven decades of collection development, the UQ Art Collection is one of Queensland's largest public art collections and includes over 3,700 artworks. It comprises works by major Australian artists from the colonial period to the present, as well as a significant collection of Chinese antiquities.
Plans are afoot to run additional MBA sessions in the UQ Art Museum.
Academic staff interested in this initiative and what the UQ Art Museum can offer students can contact: Holly Arden / holly.arden@uq.edu.au.