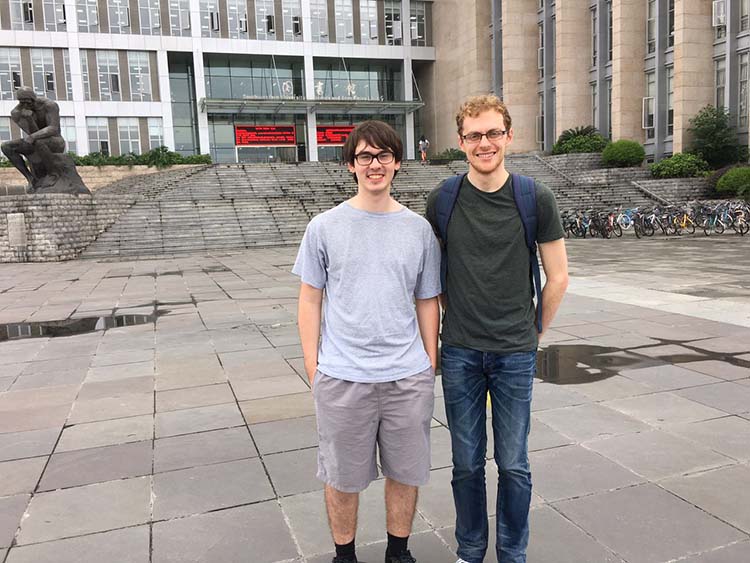 Two School of Economics students recently had the opportunity to visit one of our Chinese partner universities for an all-expenses paid immersion trip.
The "Discover SWUFE" International Summer Program took place in the winter break 2016 at the South-Western University of Finance and Economics (SWUFE) in Chengdu, China. This is an annual camp program sponsored by SWUFE to encourage cultural understanding with its partner institutions.  Students are invited from all of SWUFE's 130 partner institutions from over 36 countries. 
This excellent and engaging program provides a mixture of cultural and academic experiences - combining lectures on the Chinese Economy, the Chinese Belt and Road Policy, Chinese International Finance and Markets, Chinese Law and Culture with lessons in Mandarin, Calligraphy and Chinese cooking, as well as outings to the Sichuan Opera and a Panda Research Centre – giving participants a holistic understanding of modern day life in China. Check out this video which showcases the amazing experiences for the 2016 "Discover SWUFE" cohort!
Students Phillip Womack (UQES President, BEcon/Com) and Joe Abell (MEcon) were selected to represent the BEL Faculty for the third "Discover SWUFE" camp.
Phillip said, "Personally, I really enjoyed the SWUFE experience. My cross cultural communication has been greatly improved as I have made many friends from around the globe. Academically, all the lectures enriched my understanding of the Chinese economy and it was interesting to have some of my preconceptions called into question and challenged. Before the SWUFE program, I did not fully understand the implications of the Belt and Road Policy; I did not know what A, B and H Shares were and I was surprised how openly Chinese lecturers could talk about rule of law, personal freedom and police powers within China."
"Certainly, as President of the University of Queensland Economics Society (UQES) in 2016, I feel better equipped to be able to relate to and to engage with Chinese International students at UQ; and I definitely will share what I have learned with others."
"I would thoroughly recommend the SWUFE experience to other students. It met and exceeded my expectations. The University's facilities were impressive and the people involved in managing and presenting the program were fantastic. As a bonus, there is also the opportunity to make lots of friends from amongst the other participating students from around the world as I have done."
"I would also recommend doing some travel before and after the course. I managed to visit Shanghai, Beijing, the Great Wall and the Terracotta Warriors before the course began and some Sichuan National Parks and Hong Kong after the course ended."
For further information on the "Discover SWUFE" program and potential assistance with the cost of flights please visit the UQ Advantage Office website winter 2016 shortlist page.