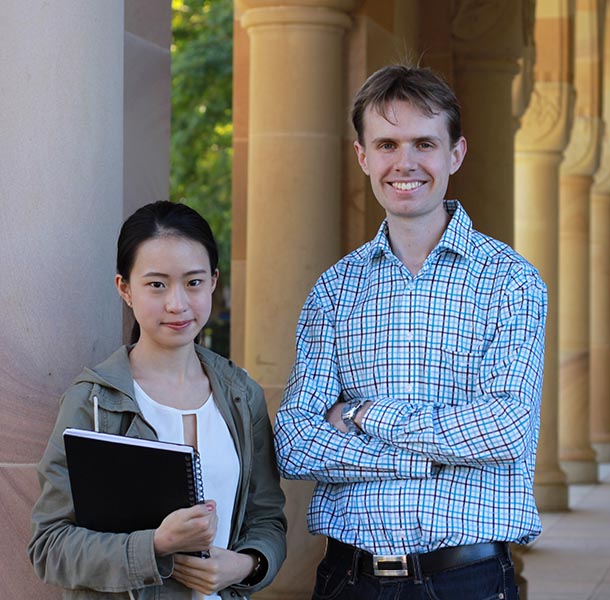 The School of Economics is inviting all eligible students interested in doing formal paid research to apply for the 2016 Summer Research Scholarship program.
The program gives students a unique opportunity during their summer break to gain up to 10 weeks' paid research experience, working alongside an economic academic.
Dominic Byrne and Xinyi (Lorena) Xie were awarded scholarships last year and have taken the time to reflect on their experiences to give others an insight into what the program is like.
Mr Byrne, an economics/commerce undergraduate student, chose to apply for the scholarship program to prepare for his Honours year and gain a competitive edge for future career opportunities.
"I am keen to take part in the Honours program next year, and of course a large component of this is the thesis."
"The scholarship provided me with first-hand experience of the steps involved in the research process, and allowed me to find out where I need to deepen my knowledge going into my final undergraduate year," he said.
"Employers are looking for candidates who can think critically, analyse data, argue a case and plan and execute a project so the Summer Research Program was an excellent avenue for honing these abilities."
During his summer scholarship program with Associate Professor John Asafu-Adjaye, Mr Byrne's role was to help prepare a research paper looking at the relationship between fossil fuel and non-fossil fuel consumption and economic growth with the hope of the paper being published in the future.
"My role over the summer involved reading through previous papers in the field and compiling a literature review, collecting the relevant data, conducting estimations, and ultimately writing these findings up in the report," Mr Byrne said.
Dominic found undertaking the scholarship very insightful and rewarding.
"In that sense, an opportunity like this bridges the divide between what you learn in class and how you apply that to real-world challenges."
"Another benefit of the program is that it makes you more comfortable reading academic reports and research papers, which can be quite challenging at first," he said.
Ms Xie found out about the scholarship from one her friends who had previously undertaken the internship.
"I heard about this scholarship from one of my friends who did the program last year and she strongly recommended me to apply for it."
"I have always wanted to get engaged in academic research in economics. I was so excited when I knew my application was successful," she said.
"During the program, Associate Professor Renuka Mahadevan assigned me to various tasks such as sorting data, running regressions using statistic software Stata, conducting statistical tests on the data collected and reviewing literature in the area of volunteer tourism."
Ms Xie, who is interested in applied econometrics, said the scholarship offers many benefits including the chance to apply theories and skills she learnt in class to real scenarios.
"The program provided me with a glimpse of academic research and allowed me to apply my knowledge in econometrics to real-life cases."
"At the same time, the program greatly developed my knowledge in econometrics and improved my skills in academic research. Such benefits would be helpful in my future study and career," she said.
The School encourages eligible students interested in undertaking formal research to apply for this program.
To apply, please visit our 2016 Summer Scholarships Program webpage. Applications are open from 11 July 2016 and close 31 August 2016.