Yen Tran, a UQ Bachelor of Economics Honours graduate (2014), was awarded a scholarship in 2015 to undertake a PhD in the Economics Department at Yale University.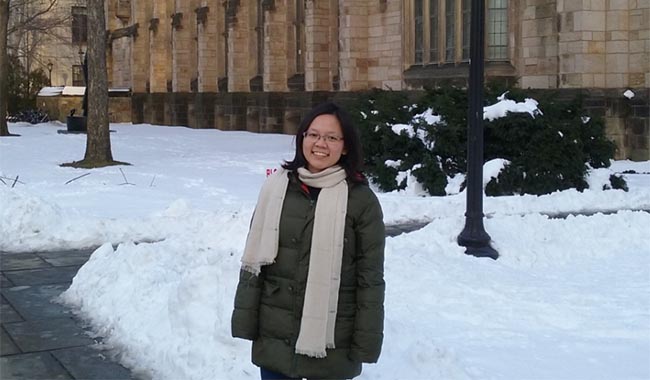 Currently completing her first year at Yale's Graduate School, Ms Tran said undertaking her Honours year at the School of Economics has equipped her with the research experience, confidence and self-reliance required to meet the high demands of the PhD program.
"Completing my Honours year at the School of Economics was the best preparation I had for undertaking my PhD studies at Yale University."
"Some of the course work taught during the Honours year is on par with the first year graduate program at Yale University, so it made it easier to transition from undergraduate to postgraduate study," she said.
"More importantly, learning to work independently and under time pressure during my Honours year at UQ has certainly helped me keep up with the heavy workload as a PhD student." 
Ms Yen is interested in econometric theory and hopes to focus her research in that area of study.
After completing the PhD program at Yale University, Ms Tran is unsure where her doctorate will take her but is looking forward to the research and teaching opportunities.
"I hope to work in academia and as lecturer because I enjoy researching as well as communicating with students."
"I still don't know where I will end up working, but going back to contribute at the UQ School of Economics is certainly one of my choices," she said.
Ms Tran wishes this year's Honours cohort all the very best and would like to provide them with the following advice.
"Take this year as an intellectual challenge and enjoy the process."
"I also suggest that you aim to understand the economics behind the myriad of maths and statistics, this makes the study more worthwhile and enjoyable," she said.
The School of Economics' Honours program provides an extra year of high-quality study for undergraduate students.
If you are interested in finding out more, please visit the UQ School of Economics' Honours program page