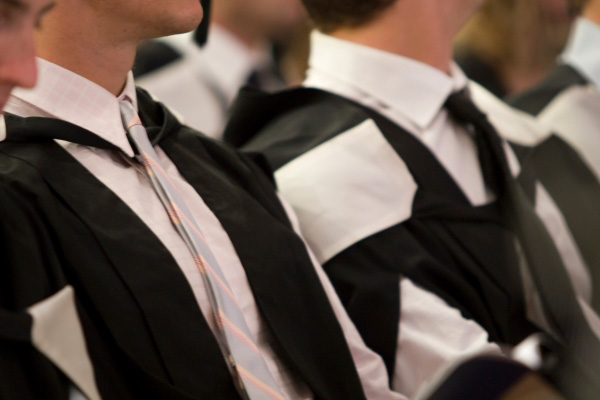 The University of Queensland School of Economics celebrated a number of outstanding student academic achievements during graduation ceremonies last Thursday 23 July 2015.
Congratulations to the following exceptional graduates, who were recognised for outstanding academic performance.
The valedictorian for the undergraduate graduation was Ms Katrina Pikering-Smith who completed a Bachelor of Economics and Bachelor of Commerce. The valedictorian speech for the postgraduate ceremony was delivered by Ms Ying Liu, a graduate of the School's Masters of International Economics and Finance programme.
University Medals were awarded to Christopher Mar, Elle Miranda Parslow, Andrew Maurice Staib and Thi Hai Yen Tran, all of whom received Bachelor of Economics with Honours Class I.
Professor Rodney Strachan, Head of the School of Economics, attended each graduation ceremony to celebrate the academic achievements of all graduating students.
"I would like to congratulate each graduate on successfully completing their degree. Graduating with an economics degree from the University of Queensland means you have the potential to become a leader in your chosen field.
I would like to give special mention to those students who received an award for achieving academic excellence. The school is proud of your hard work, commitment and success."
Alumni members of the School of Economics shared their stories and insights with the graduating cohort during each graduation ceremony.
Ms Susan Buckley, Managing Director of Global Liquid Strategies at QIC, spoke at the undergraduate ceremony, while Ms Lyn Maddock AM, Board Member of Film Victoria and Tasmanian Land Conservancy, delivered a presentation at the post graduate ceremony.
The School of Economics wishes its newest alumni members all the success in the future.