Sustainability initiatives
Our Environmental Initiatives
At the School of Economics we are aware that office activities impact the environment and is committed to improving the environmental sustainability of our office. We joined the University's Green Office Initiative in 2010 and now has a "Green Team" of staff members who monitor our School's environmental awareness and performance, and promote UQ initiatives and sustainable behaviour in the School.
Since 2010, our Green Office rating has jumped from 67% to an outstanding 81% and in 2014 our Green Team won the UQ Green Program award for 'Most Motivated Team'! Green Office Ratings are determined by a number of variables, including individual awareness and energy use and the School's overall implementation of the 'reduce, reuse and recycle' policy.
2014 initiatives included introducing rechargeable batteries to be used in School electronic equipment; installing motion sensor lighting; promoting the use of electronic signatures and forms.
2015 initiatives include the purchase of 30 coffee mugs embossed with the School's logo to be used by staff in place of disposable cups and a continued focus on an online marking system to reduce paper use.
The School of Economics - Overall Green Office Rating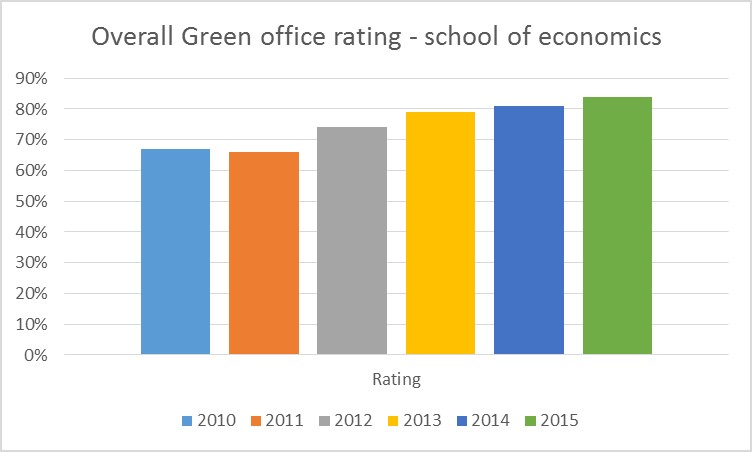 The Overall Green Office rating is an average of all tested components including
Individual:

Awareness
Energy use
Reduce, reuse and recycle
Purchasing officer interview
School workstation energy use
Workstation reduce, reuse and recycle
School reduce, reuse and recycle
School of Economics Paper Usage
November 2009 - October 2010, used 1640 reams
November 2010 - October 2011, used 1410 reams a 14% Reduction
November 2011 - October 2012, used 1421 reams a .01% Increase
November 2012 - October 2013, used 1247 reams a 12% Reduction
November 2013 - October 2014, used 979 reams a 21% Reduction
November 2014 - October 2015, used 675 reams a 32% Reduction
School of Economics Energy Usage
Combined energy consumption levels 5 and 6
November 2010 - October 2011
229,000 kWh
November 2011 - October 2012
230,648 kWh
November 2012 - October 2013
239,732 kWh
November 2013 - October 2014
260,822 kWh
The School's green initiatives include:
Implementing the University's Sustainable Procurement Guidelines, including an increase from 0% to 95% of the paper purchased by the School being recycled
Setting all computers to double sided printing by default
Providing a paper recycle box at each work station
Providing a box for battery recycling and disposal in the central stationery and printing room
Providing of durable (re-usable) glasses, crockery and cutlery at School functions and meetings
Phasing out desktop printers in favour of more energy and toner efficient multi-function devices in the central stationery and printing room on each floor
Installation of motion sensor lights in all kitchenettes and bathrooms
Recycling used toner cartridges from printers and copiers
Recycling of old IT equipment and furniture
Use of re-manufactured toner cartridges for printers
Development of guidelines for environmentally responsible records management
Introduction of electronic timesheets for administrative staff
Introduction of rechargeable batteries (and recharging station) for all School computer mice, keyboards, microphones and pointers
An information session and volunteer trial for online marking
Purchase of 50 tablets for use by teaching staff to enable online marking and to provide an enriched teaching and learning environment for our students
The School of Economics promotes environmentally sustainable work practices and reinforces the "Reduce, Reuse, Recycle" motto by encouraging staff to:
Switch off lights if the area will be unattended for more than 30 minutes
Use energy saving computer settings
Turn off computer hard drives and monitors when not in use, especially at the end of the day
Turn off electrical equipment (printers, copiers, microwave) at the end of each the day.
Send printing to the large multi-function devices on each floor rather than to individual desktop printers
Minimise printing wherever possible
Print and photocopy on both sides of a piece of paper
Re-use single-sided paper for draft copies or notepaper
Approve actions and forms via email endorsement/electronic signature
Locate and use the glass, aluminium and plastic recycling bins on each floor
Locate and use the paper and cardboard recycling bins on each floor
Use the battery recycling/disposal box located in the central stationery and printing room
Use durable mugs/cups when buying coffee
Use refillable water bottles
Use sustainable transport for travel to UQ, such as public transport, walking, cycling or car-pooling.
Provide suggestions and feedback to improve the Schools environmental performance