In August, Bachelor of Arts (Honours in Economics) student and Crawford Fund Scholar, Emily Dahl, attended The Crawford Fund's 2018 annual agricultural and food security conference, held at Parliament House, Canberra. Emily was supported by scholarships from UQ's School of Economics and the Australasian Agricultural and Resource Economics Society – Queensland Branch. Here, Emily shares her learnings and experiences from this national conference.
---
Recently, I attended The Crawford Fund's 2018 annual conference, which focused on the challenges and opportunities in delivering healthy diets to the world's increasing population while also minimising environmental impact.
As an honours student in economics, I am currently researching factors that affect agricultural technology adoption in Ethiopia using household survey data collected through the Sustainable Intensification of Maize-Legume cropping systems for food security in Eastern and Southern Africa (SIMLESA) program.
I am interested in issues of economic development, and want to gain experience in policymaking and economic analysis so I can contribute technical expertise to the design and implementation of practical initiatives for advancing economic development internationally.
I wanted to attend this important conference to learn about the innovative work and meet the people helping create a secure future for our food supplies in Australia and across the world.
Working together to improve global nutrition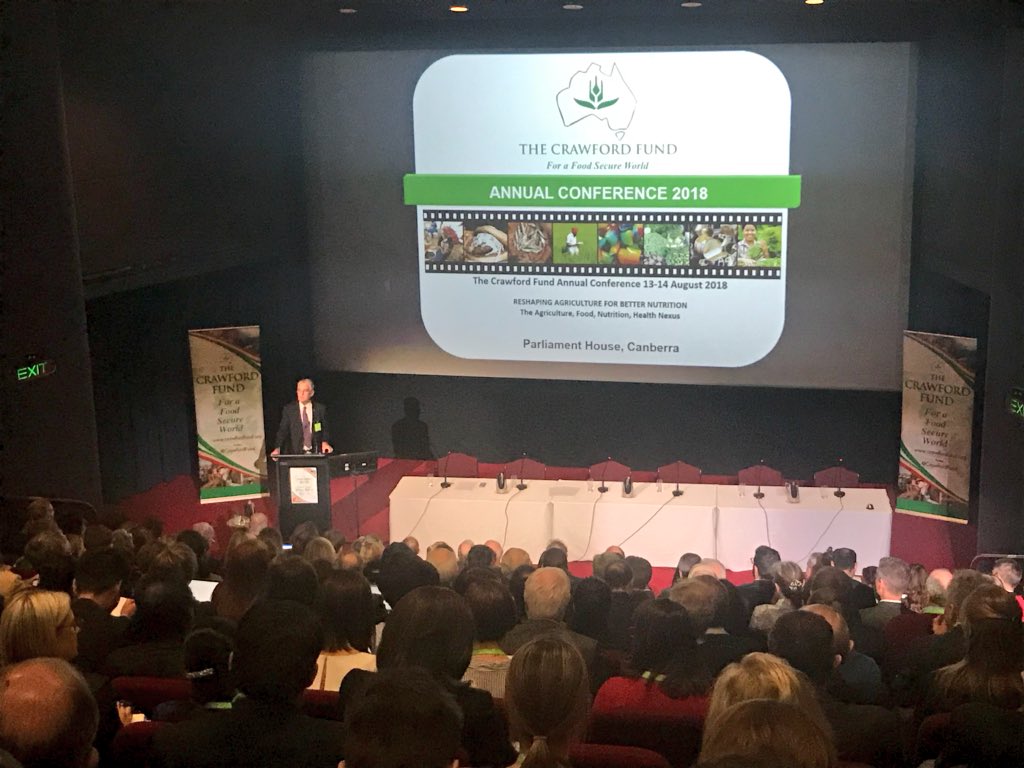 One of my highlights from the conference was the presentation given by UN Food and Agriculture Organization and Johns Hopkins University's Dr Jessica Fanzo.
Dr Fanzo spoke on the challenges and impacts of poor nutrition and the importance of nutrition in achieving the UN Sustainable Development Goals.
Astonishingly, every country is nutritionally vulnerable, and Australia is no exception. There are now 124 countries facing a burden of either two or three forms of malnutrition—stunted, anaemic and overweight.
The health, social and economic consequences of the global malnutrition burden are extensive. Some memorable statistics include:
2 billion people lack key micronutrients such as iron and vitamin A.
151 million children suffer from chronic malnutrition while 51 million children suffer from moderate malnutrition.
38 million children are overweight and 2.1 billion adults are either overweight or obese.
Undernutrition results in a 22-45% reduction in lifetime earnings.
The economic impact is estimated to range from 2-3% of GDP to as much as 16% in the most affected countries.
These alarming statistics demonstrate the urgent need for our global community to work together to transform food systems and improve the quality and nutritional value of food.
We also need to develop policy solutions to promote healthy eating. Speakers stressed that solutions require strong leadership and an integrated approach that brings sectors together.
Diversity is key to sustainability
During the conference, experts in the fields of agronomy, smallholder farming, livestock, and aquaculture systems presented initiatives that put agriculture at the centre of international development through increasing environmentally sustainable food production, targeting nutrition and alleviating poverty.
Some initiatives aim to encourage a change in consumer behaviour and a shift in eating habits, for example, back towards eating traditional vegetables in developing countries.
World Vegetable Centre Director General Dr Marco Wopereis highlighted the greater nutritional value of traditional vegetables compared to commonly grown vegetables and the environmental benefits, concluding that increasing dietary diversity improves biodiversity.
The ICRISAT Smart Food initiative is a program that aims to deliver food that is good for health, the planet and the farmer. This initiative has introduced education programs and even produced a reality TV cooking program to influence consumer behaviour in Kenya. The initiative focuses on the nutritional benefits of crop varieties other than the world's three main food crops (rice, wheat and maize) that are high in calories, yet low in key micronutrients such as iron.
Another project focuses on developing new innovations to biofortify cereals with iron through agricultural biotechnoogy . This research emphasises the need to harness modern science and technology to promote climate smart and nutrition-sensitive agriculture.
Building networks; expanding opportunities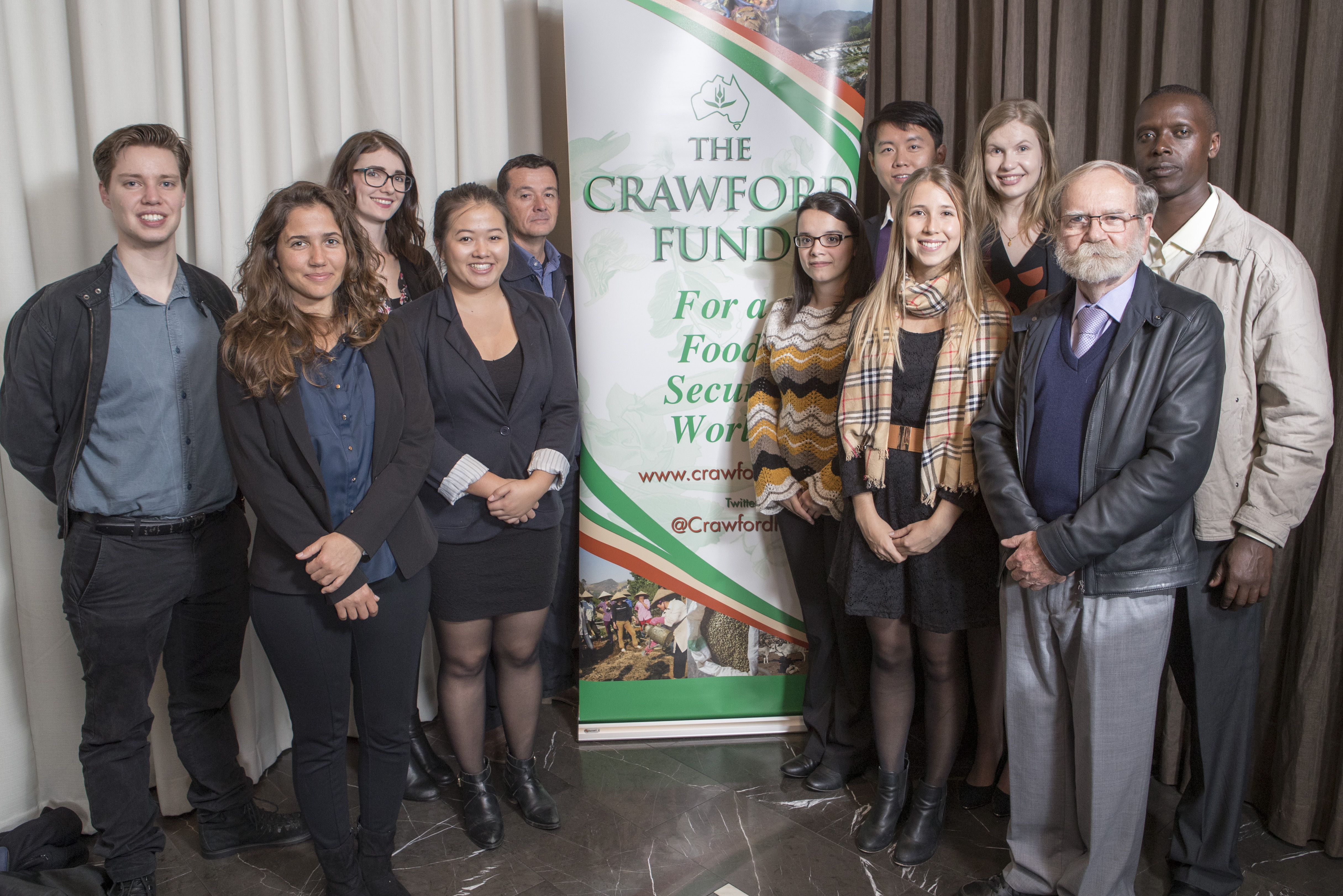 In addition to the conference, I also enjoyed attending the Researchers in Agriculture for International Development (AID) and The Crawford Fund Scholar Program events, where I participated in networking activities, met with mentors and learnt about the range of volunteering and training opportunities in international agricultural development.
I am grateful to have been mentored by Michael Taylor AO who is a board member for The Crawford Fund and is a respected leader in the agricultural sector. I really appreciated his introductions and knowledgeable advice.
Attending this conference provided me with an excellent opportunity to engage with experienced international researchers and people who have worked extensively in developing countries. Learning about other people's research and progress in food supply and security has been of great benefit to my research, which explores factors affecting agricultural technology adoption in Ethiopia.
I'd really like to thank the UQ School of Economics and the Australasian Agricultural and Resource Economics Society – Queensland Branch for sponsoring me to attend this conference as a Crawford Fund Scholar. I left inspired and energised to reach my research goals and pursue a career in international development.
Emily's Honours thesis is titled: Factors that affect sustainable agricultural technology adoption in Ethiopia.
Emily's thesis supervisors are Dr Peggy Schrobback (UQ School of Economics), Dr Temesgen Kifle (UQ School of Economics), A/Prof Mohammad Alauddin (UQ School of Economics), and A/Prof Daniel Rodriguez (Queensland Alliance for Agriculture and Food Innovation).
Learn more about studying honours at UQ's School of Economics.