The University of Queensland's month-long #UQLife festival wraps up this week with Success Week.
The week's activities showcase the range of UQ support services and resources available to help students succeed and improve their learning, wellbeing and employability.
For students from the Faculty of Business, Economics and Law (BEL), the opportunities to succeed extend well beyond Success Week.
Inside the refurbished Colin Clark building, BEL students can book consultations with the Faculty's Student Experience team and award-winning BEL Student Employability Team, or find collaborative and inspiring places to study in the new BEL Student Hub.  
At UQ Business School, students can hone their leadership skills by joining student program committees or business student associations, while TC Beirne School of Law students can participate in the School's TCB Wellness program or its internationally competitive mooting program.
And at the School of Economics, students are encouraged to fulfil their potential through the School's customised tutorial training program – Tutor Trainers in Economics (TuTE).
Economics tutors lead the pack
Each year, the program employs a new crop of enthusiastic and savvy students to lead the tutorials for undergraduate and postgraduate economics courses.
Chair of the Tutorial Selection Committee Dr Bruce Littleboy said the program launched in the 1990s and was revamped about five years ago.
"The program combines a new selection process and a redesigned training process that focuses on practical skills that are used inside the classroom," Dr Littleboy said.
"At the annual tutor training day, we break the tutors into groups where they can practise these skills among themselves and offer constructive criticism to their peers."
The TuTE team – Dr Littleboy and his colleagues Carl Sherwood, Associate Professor Kam Ki Tang, Dr Frederique Bracoud and Dr Bryan Morgan – recently received a BEL Faculty Citation for Outstanding Contribution to Student Learning or Experience for their work on the program.
Dr Littleboy said the award was a testament to the program's success and the range of benefits for both students and tutors.
"Students give stellar scores for our tutors; they feel they're getting something from their tutorials," Dr Littleboy said.
"As for the tutors, they achieve the graduate attributes of leadership, communication skills and confidence that employers seek, and the top tutors receive awards they can add to their CV."
Find out more about becoming a tutor.
Boost your employability with BEL SET
Economics tutors aren't the only ones cultivating their employability skills.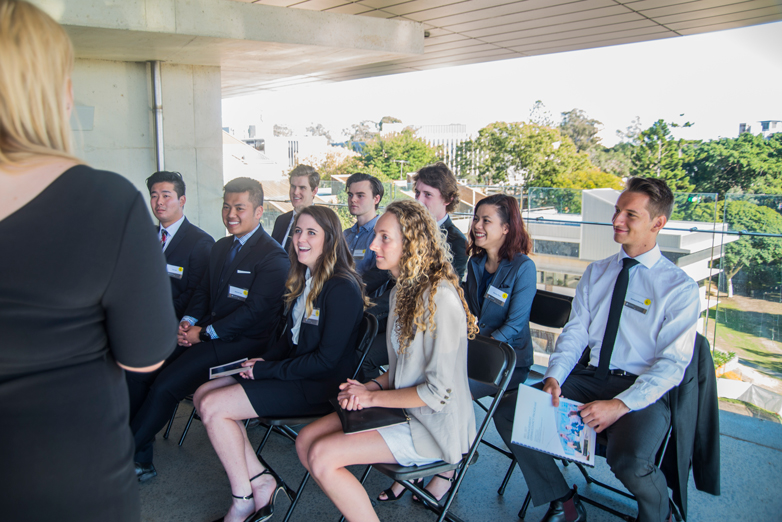 On a Faculty level, the BEL Student Employability Team (BEL SET) is dedicated to helping all BEL students develop their employability, secure work experience, industry face time and other opportunities, and manage their future careers.  
The team offers services including individual consultations, access to employability and networking events, and programs including the BEL Career Mentoring Program and the Student Work Experience Program.
Director of BEL SET Rhea Jain said she would encourage all BEL students to focus on their employability from day one.  
"It's very important to graduate with a well-rounded profile, and this kind of profile takes time to develop," Ms Jain said.
"The best course of action is to get involved from your first year.
"Develop your professional skills and social networks and participate in community and industry activities. The more exposure you gain, the more you'll have a point of difference over other graduates."
Ms Jain said she had three top tips for BEL students:
Engage early and consistently.
When developing skills, challenge yourself to step outside your comfort zone – and reap the benefits.
Make the most of UQ's networks. Meet and talk to absolutely everyone, including your peers, professional and academic staff, tutors, and industry and community leaders.
Visit the BEL SET website to find out more, make an enquiry or book a consult.
Success Week runs from 5-9 March. View the full #UQLife program.
Contact: BEL Communications, Alysha Hilevuo, media@bel.uq.edu.au, (07) 3346 9349.